The City College track and field team set season bests Friday on the sunny afternoon of their Easter Open meet at La Playa Stadium.
The men's team scored 67 points to place them fourth overall while the women's team scored 72 to place third out of 9 teams. Westmont came out on top to win both in both  men's and women's.
Alex Ramirez set season best times in two of his three events. He came in second in the 800-meter with a time of 2:00:53 and placed fourth in the 1500-meter.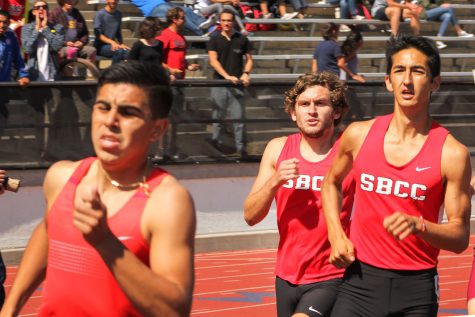 "I started off rough at the first couple of meets, but this one was a real confidence booster," Ramirez said.He also competed in the 4×400 meter relay.
Story continues below advertisement
Chris Aichinger, who broke the pole vault school record last month, tied for best height but lost to Santa Barbara Track Club member Derek Masterson on misses.
Aichinger started the competition at the 15-foot height, something he had never done before. He said it was a huge confidence booster because he doesn't have to start at such low heights anymore.
Aichinger pole vaulted 15-6 ¼, only four inches short of his personal record
"If I just tweak my technique a little bit more, than I could definitely break 16 by the end of this year," Aichinger said.  
Distance runner Yuliana Garibay placed second in the 3000 steeplechase finishing in 12:36.89, but she said she's a bit disappointed that she didn't beat her personal best time.
"I started off too fast," she said. "[Next time] I'm gonna be more patient in the beginning and then gradually speed up."
Andrea Mueller led the women's team, placing first in high jump, third in long jump and fourth in the 100 hurdles.
The City College as a whole performed great at their only home meet of the year. Although they didn't come out on top based on points, 14 athletes were able to record season bests.
Coach Scott Santella said this meet was important because it helped boost the team's confidence.
Easter Open was the last meet before prelims and finishing at home where the team is most comfortable is a perfect way to end the regular season.  
The team will be traveling to Bakersfield Friday, April 21 for Western State Conference Prelims.