City College women's swim and dive plunge into Ventura meet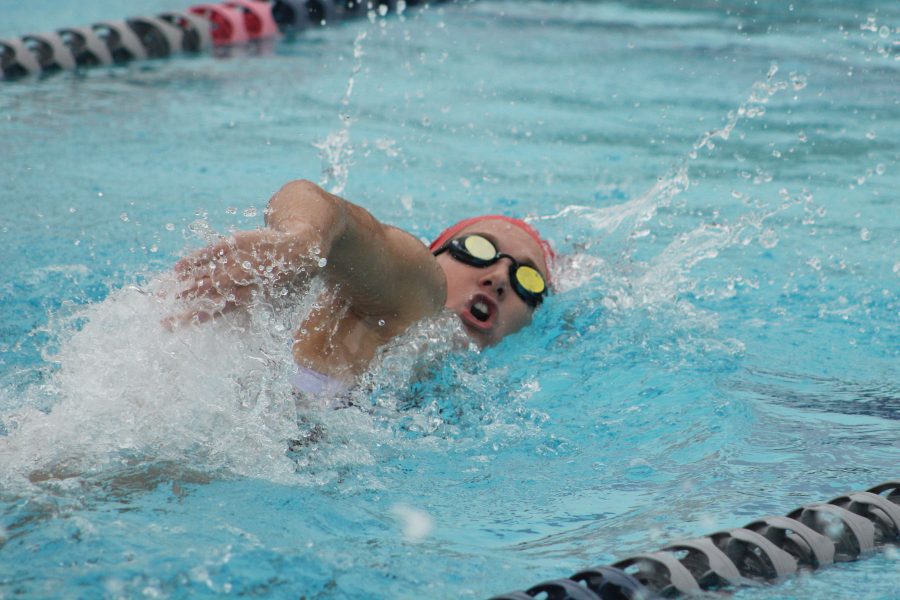 Women's swim star Addison Seale dove into second place this Friday in the WSC pentathlon at the Ventura Aquatic Center.
The pentathlon included the backstroke, butterfly, breaststroke, freestyle and an individual medley, each 100 yards. Swimmers were scored individually based on the total time of their combined events.
Seale's combined time of 5:29.02 put her a mere 10 seconds behind first place winner Alexandria Kwong from Allan Hancock College. Seale is a star swimmer and has already signed to play water polo for UCSB in the 2017-2018.
Seale placed third in the 100 yard freestyle, third in the 100 yard backstroke and fourth in the 100 yard butterfly.
"I'm proud of everyone that did well today," said Seale. "I think we're gonna have a really good season and hopefully we can do better than last year."
Reese Ellestad placed first in the 100 yard freestyle making her the only City College swimmer who won an event. A combined time of 5:46.28 placed Ellestad  in seventh overall.
"As a team we did very well," said Ellestad. "We're missing a lot of girls due to injuries or problems but everyone who was here did very well and everyone who isn't here wishes they were."
Only six of sixteen girls on City College's swim and dive team competed.
Ellestad and Seale are both part of the school record holding 400-yard free relay team from last season. Their season opening performance shows that expectations are only getting higher.
All City College swimmers attending competed in each event, but not everyone met coach Brian "Chuckie" Roth's expectations.
"Today wasn't our best day and we have some work to do," said Roth. "But it's not about where you start it's where you finish and we've always finished strong."
The women's swim team is relatively new to City College with this being their fourth year in season. Roth's team has continued improving year by year and he expects the trend to continue this year.
Last year's team raised the bar high for this season placing fourth in state and breaking seven school records. They're off to a rocky start but Roth is confident that his team will bounce back.  
The dive team, coached by master diver Trish Salvatore, starts their first season ever on Feb. 23 at the Mt. Sac invitational. The swim team will continue theirs on Feb. 24 also at Mt. Sac.