SBCC men's basketball loses to Cuesta in double overtime
The City College men's basketball team lost in a double overtime thriller against Cuesta College 86-77 this Saturday night in the Sports Pavilion.
The Vaqueros were up in the final seconds of regulation and the first overtime, but two clutch shots by Cuesta kept the game going. This is City College's second loss in a row after winning two straight games.
"I thought we played hard," said coach Morris Hodges, "We just had missed opportunities and a few mistakes at the end."
Noah Saunders (No.21) of Cuesta College hit both shots at the end of regulation and the first overtime to keep Cuesta alive and eventually lead them to victory.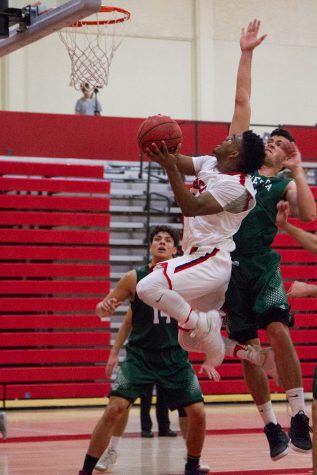 Robert Hutchins (No.15) was the leading scorer for City College, scoring 25 points.  
"I was just feeding off of my teammates and running our system," said Hutchins
City College went into halftime trailing 30-28 but they came out full of energy after halftime. They took the lead and held onto it for most of the second half.
"I wasn't happy with our offensive efficiency in the first half," said coach Hodges, "I felt we made harder shots than we needed to make."
The City College defense was forcing turnovers to start the second half, which lead to easy scoring opportunities at the other end. Drayten Howell (No.12) and Hutchins were defending well against Cuesta's guards all game.
"We had to pick up our defense in the second half. Our energy was low," Hutchins said. He had four steals in the second half.
Ben Clay (No.32) had a great game on both sides of the ball. Clay was controlling the inside on defense and made key shots that kept City College up in regulation.
"I felt like I controlled the paint well even though my body hasn't been feeling great," he said.
Clay was playing with a lot of pain and he took hits to the body throughout the entire game. He hit a three-pointer, which was followed by an acrobatic shot off one foot by Hutchins. This shot put City College up by six with around three minutes left to play in regulation.
Cuesta wouldn't give up and they cut the lead to three just before hitting another three-point shot at the buzzer to put the game in overtime.
Howell hit a three-pointer with 18 seconds left in overtime to give City College a 73-71 advantage.
"I have to seal the deal," he said.
Cuesta was able to tie the game yet again to put it in a second overtime. There, Cuesta outscored The Vaqueros 13-4.
"The fatigue definitely caught up to us in the second overtime," said coach Hodges.
"I thought we had it," said Howell. "We just let those two plays slip away."
City College will travel to play Oxnard College on Wednesday, Feb. 8th. Their next home game is next Saturday against Allan Hancock