Vaqueros women's soccer adds 1-1 tie to conference standings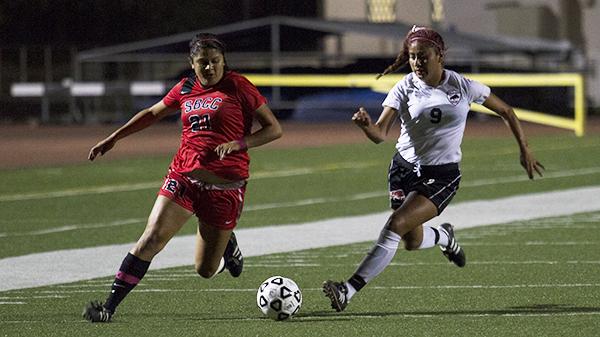 City College women's soccer rallied in the second half to tie Pierce College 1-1 in a Western State Conference game Friday Oct. 4 at La Playa Stadium.
The Vaqueros (4-3-1) struggled to get much of anything going in the first half as they went to break down 1-0 to the Brahmas (4-3-2) with only one shot on goal.  Vaqueros goalkeeper Brianna Robinson (No. 1) came up big against the onslaught of chances in the first half and kept the game within reach for the offense.
The Brahmas Michelle Somers (No. 19) scored the first goal with seven minutes left in the first half .  The ball rebounded off the post and went straight to Somers who put in the easy finish.
"At least we got the tie, better than a loss obviously," sophomore Brandie Harris (No. 2) said.  "I hope we play more like we did in the second half and start off strong our next game."
The game seemed to be a tale of two halves as the Vaqueros came out strong in the second half and outplayed the Brahmas handedly.
Sophomore Briana Lopez (No. 21) scored her first goal of the season with 15 minutes left in the second half to notch the score at 1-1.
Lopez dribbled the ball from midfield to just outside the top of the penalty box and hit a blast with the outside of her right foot, sneaking it just inside the far post and off the hands of the outstretched keeper.
"It took me a while to finally get one in," Lopez said.  "I knew I wasn't going to score against an easy team. I knew it was going to be a tough game."
"They got after us in the first half and the second half we came out and the girls played very well," head coach John Sisterson said.  "Positive thoughts at halftime and we came out and got about them."
Sisterson said the girls must be a 90-minute team, not just a 45-minute team and that it is up to he and his coaching staff to get them ready for that.  The Vaqueros are in second place in the WSC, one game behind Ventura.
The Vaqueros look to finish a five game home stand with a victory against the Moorpark College Raiders at 7 p.m. Tuesday Oct. 8.  They will then hit the road for seven games, not playing at La Playa Stadium until Nov. 5.