SBCC baseball wins 6-1 against Ventura, places second in state
The City College baseball team clinched second place in the Western State Conference North Division Saturday afternoon, at Pershing Park, with a 6-1 victory over the Ventura Pirates.
The top two teams in the division can advance to the playoffs as long as they have a .500 record or better and City College can do just that with one more win.
"We put ourselves in a good position for a playoff berth today," said pitcher Ian Clark.
The Vaqueros came into the last month of the season with a 10-14 record but they have now won seven of their last nine games, including the last three in a row.
All three matchups between these teams have been won by the Vaqueros and they can complete the season series sweep this Tuesday at Ventura.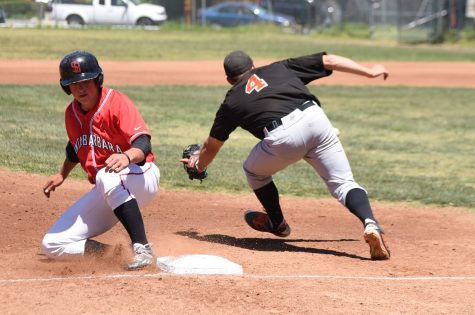 "It's always good to win a series," Clark said. "And we're finally above .500 which is a first for the season and I think we're getting hot right at the right time."
The City College offense got started early and it didn't let up. The Vaqueros scored at least one run in each of the first three innings.  
Chris Smutny got the offense started in the first inning when he hit a double and stole third. He went on to score on a balk by Ventura pitcher Adisson Pelupessy for the first run of the game.
The very next inning City College shortstop Wesley Ghan-Gibson hit his first home run of the year with a two-run shot over the left field fence.
"It's definitely nice to have that reinforcement behind you and we've been hot with the bats lately," Clark said about the run support.
Ventura put the pressure on Clark in the top of the third inning when they loaded the bases up with no outs. The Pirates went on to score on a fielder's choice but Clark was able to escape the bases loaded jam with minimal damage.
"[Clark] got guys on here and there but he made the pitches when he needed to, so that was good to see," said head coach Jeff Walker.
City College pitcher Brett Gregory came in to pitch the final two innings and he got some help from the defense when Smutny backhanded a ground ball at third and turned a double play to end the eighth inning.
Next up the Vaqueros face the Pirates one last time at 2:30 p.m. Tuesday, April 26 in Ventura.