W. Kamau Bell visits SBCC, discusses racism after election
It was just past noon on Wednesday when hundreds of grim City College students, staff and faculty crowded the Garvin Theatre's lobby. The swelling crowd waited for the theatre doors to open to hear comedian and political satirist W. Kamau Bell discuss racism inherent in America.
SBCC Foundation invited Bell to deliver his lecture "The W. Kamau Bell Curve: Ending Racism in About an Hour" to City College for its 26th annual Leonardo Dorantes Memorial Lecture. Bell's act is a solo-performance involving stand-up comedy, video and audio clips, and personal stories and experiences.
"I booked this gig before I knew it was the end of the world," Bell said, referring to Donald Trump's election. "I feel like it's the day before Mad Max starts."
For over an hour, Bell who stands 6 ft. 4 in., sauntered the stage and clutched his cordless microphone, using a giant screen projector to show a variety of pictures and videos relevant to his lecture on racism. He started with a clip of his stand-up comedy act from 2005, which immediately altered the theatre's sullen mood when Bell said on the video "There will never be a president called 'Barack Obama.' Might as well call him 'Blackie Blackerson,' or 'Black Osama.'"
Laughter dissipated and a choir of moans swept the audience when president Obama's lifesize photo was replaced with a giant picture of Trump. Bell paced quietly in front of the picture as he compared him to dictators like Hitler.
The day after the election is the 78th anniversary of the Kristallnacht, Bell explained. Kristallnacht, or "Night of Broken Glass," was a massacre organized by Nazis and civilians on Nov. 1938 against Jews throughout Germany.
However, gloom didn't last for long during Bell's lecture. A picture of Michelle Obama flexing her arms with Elmo standing by her side and gazing at her ignited the strongest and loudest reaction of the entire lecture.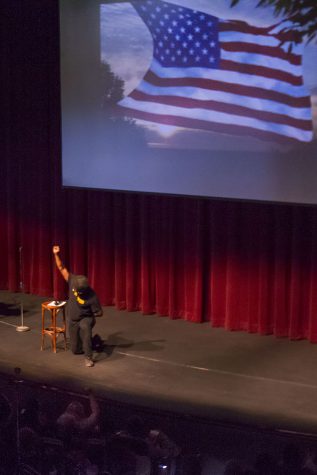 "I'm not ready to say goodbye to the Obama Foundation," he said as he got on his hands and knees and brazenly sang at full volume, "I'm not living without you," the lyric from Jennifer Hudson's song "I am telling you." Once again he shifted the mood to what the audience felt was a much brighter note.
He said he does not agree with everything Obama has done during his time in office, such as, deporting more immigrants than any other American president and cozying up to Wall Street.
"Every president sucks," he said, "some just suck way worse than others."
The 43-year-old comedian also paid homage to African-Americans, including NFL quarterback Colin Kaepernick, who still refuses to stand during the pre-game national anthem, noting his "book-reading afro."
Bell used Kaepernick as an example of what Bell says all of America, especially "whites," should be partaking in right now in the movements to protest Trump's victory. No matter where the lecture headed and how many different examples of racism were brought to the table, the screen always reverted back to a picture of the president-elect Donald Trump, who Bell calls, an "Orange-American."  
"I was so grateful for today's experience. It was definitely that ray of light on a very dark and gloomy day," said Nicole Harris, a Drug and Alcohol Counseling major who attended Bell's lecture. "It gave me hope, despite the division in our country right now."
As an immense photo of Bell's daughters appeared on the screen, who were about 2 years old. He turned his back to the audience, kneeling down in a crouched position. Once again the audience exploded with sincere applause and overall admiration for Bell's message of gratitude for his children.
"Kamau Bell gave us a wonderful gift on such a difficult day; the gift of laughter," said Dylan Raiman, the college's associated student senate president. "He reminded us the importance of introspection, looking deep into ourselves and encouraged us to face the tension and doubt we keep bottled up inside."
Bell finished the lecture at 2:30 p.m., moving to the event outside the theater where he spoke one at a time to a long line of teary-eyed students and other spectators, who left smiling.