New student senate president ready to take on campus issues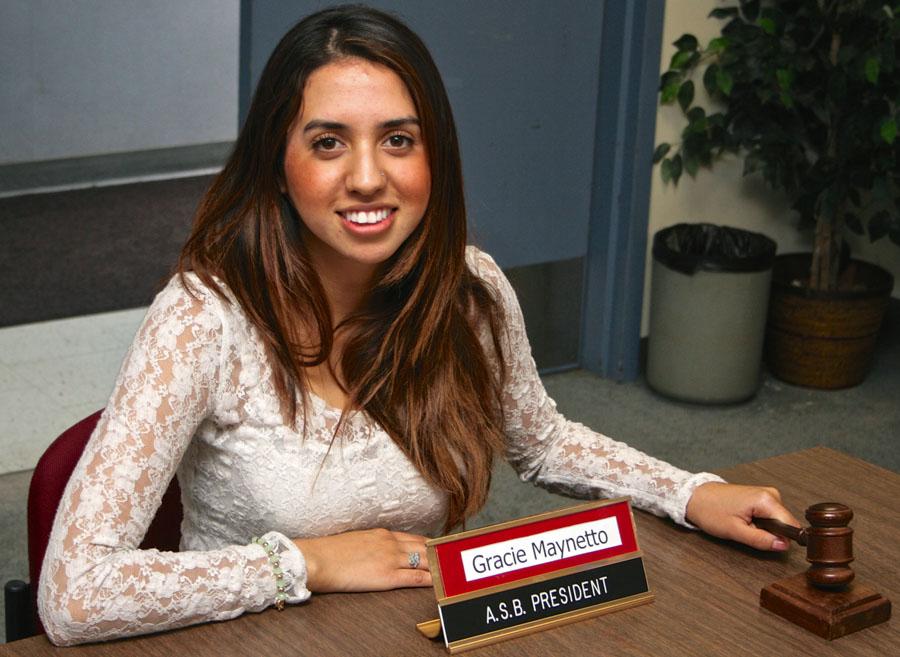 Equipped with a smile, a to-do list and the drive to tackle a plethora of student projects and programs, Gracie Maynetto is taking the position of Associated Student Senate President unopposed.
Student government is nothing new to her though.
The 19-year-old communication major has big plans for City College, including changing the party culture surrounding Isla Vista by creating a bond with the UCSB Student government. She also hopes to get the campus on a more eco-friendly path, and ensure that students volunteer and participate more in campus programs.
"I really do enjoy everything we do in the Senate," Maynetto said. "We're students and people do care about what we have to say."
Her mother came to America from El Salvador and began working and going to school full-time in an effort to make the best life for her family.
It's with her mother's encouragement that Maynetto feels she can take on this role.
She's been on the Student Senate as a Senator and as Vice President of Internal Affairs and is responsible for proposing the food bank on campus. She's also a member of the Extended Opportunity Program and Services club and the Transfer Achievement Program.
Ellie Katzenson is the current President of the Student Senate and said she is confident in Maynetto's abilities to fill her shoes.
"Gracie is a warm and dedicated person who has always kept the needs of all students in mind," Katzenson said. "As exemplified by her leadership with the food bank initiative."
Maynetto also plans on furthering the sustainability mission started by Katzenson by removing water bottles from campus and encouraging students to use their own bottles.
She is also adamant about changing the party culture of students living in Isla Vista and has met with UCSB's student government to get a head start on the project.
"I feel like students don't know the repercussions of their actions when it comes to partying," she said. "We have to start by changing their mindset."
This year's senate has almost a full table of 12 students but is shrinking to seven members next year.
"I honestly want quality over quantity," said Maynetto. "I don't want resume-pushers, I want students that truly care about what we're trying to do."
She's excited to head the table and is making it her mission to meet with every student on the Senate one-on-one to discuss future initiatives and how to take them on in the coming academic year.
Katzenson believes the Student Senate will be in more than capable hands.
"I must note how pleased I am to leave the office to another woman of color," Katzenson said. "Si se puede!"