In 2014, Diego Santana Ramirez returned to City College as the first full-time lab teaching assistant in the Life-Fitness Center.
Ramirez previously worked as a trainer and manager of 24-hour-fitness, and also worked as a personal trainer in his own business in Carpinteria, but never thought he would work at the college. He applied for the job for fun, but never expected to get it, he said.
"Diego has been an excellent addition to the Physical Education staff and the Life Fitness Program," said Ellen O'Connor, interim athletic director, who worked on the hiring of Ramirez.
"Diego is bi-lingual and plays an important role in assisting our Spanish language students seeking to improve their fitness education knowledge," said O'Connor.
Story continues below advertisement
When he applied for the job, he knew he had all the qualifications but never thought he would be picked. He didn't tell his wife until the day before the interview. He sent in his application two hours before deadline and forgot about it until a couple of months later when he got a call that said he was selected for an interview.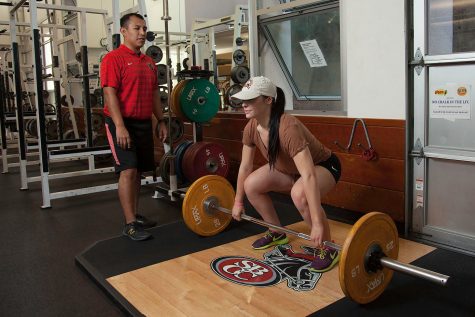 Ramirez works primarily with the students, helping them with exercises and proper technique when working out.
"Happiness drives me," he said. "Not money."
Students make a lasting impact on him, he said. He remembers when he first started working at the center they had an intern.
"I saw myself in him," he said. "Insecure, shy, soft spoken, wanting to learn and grow and figure out myself."
Ramirez attended City College as a student; then earned his bachelor degree in applied fitness at California State University, Northridge.
"He is extremely knowledgeable regarding biomechanics, exercise programming and fitness evaluations," according to O'Connor.
Ramirez moved to Carpinteria when he was nine-years old with his parents, and has lived there most of his life. Currently, he lives with his wife and 11-month-old child in Oxnard, and commutes to Santa Barbara.
Ramirez gets along well with students and is always out talking to them to help answer any questions they might have, and help in any way he can.
"We get along together, he is a good instructor who knows what he is doing," said Daniela Gutierrez, a student who has worked with Ramirez several times.
"Sometimes it feels like he has no clue what is going on in the fitness center," said Gutierrez. "But he does. He knows everyone who is coming in and out, and he knows when they have not been there even though you don't feel like he would notice."
Ramirez sees himself staying at City College for a long time, and hopes to continue to advance within the department. But for now, that's just a future dream, he said.