New Student Trustee embraces role as campus leader
A few years ago Cristian Alvarez was the kind of guy who didn't know anybody and sat in the back of the classroom, now he is the new Student Trustee and one of the leaders of the Associated Student Senate.
The Student Trustee is the voice that represents the 20,000 City College students in the decisions taken by the Board of Trustees during their monthly meetings.
This semester, after the resignation of former trustee Levi Palencia, the Associated Student Senate voted Alvarez to take over the position.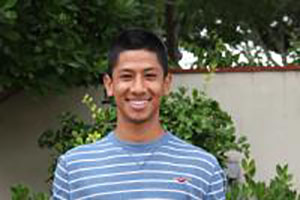 Alvarez is from the Los Angeles area, where he lived his entire life with his mother and his family. Four years ago he decided to move and attend City College.
"I had never been familiar with Santa Barbara, and my first year wasn't that great," Alvarez said. "I did struggle a lot."
He experienced a huge transition from being a confused student who didn't even have a major, to the leader who sits today in the Student Senate and wants to inspire other students.
"I found the leader in me before I was a leader in the Student Senate," he said. "I've been inspired by the people who work here."
Alvarez's career turning point was when he got his first job at the Academic Counseling Center. He experienced his first encounter as a counselor and this led him to look more in depth into that career prospect.
His second job as college representative in the Student Outreach and Orientation Program played a huge role in his discovery that he was a people person.
"I love being around people and City College allowed me to gain that experience," he said.
He was in the team that met and gave Oprah Winfrey a campus tour when she visited last November. He also personally gave a tour to the inspector group that named City College the number one community college in the nation.
"I think Cristian is doing a really great job as the Student Trustee," Senator Ama Peiris said. "Being a student worker as well as a student himself, he has a very unique perspective on many of the issues. He understands both sides and thereby is able to identify the best solutions."
The first few times he was giving campus tours Alvarez said he would walk by the Senate Room and notice a room of intimidating leaders.
"Little I knew I would blend and fit with them," he said.
Shortly after joining the Associated Student Senate, President Elie Katzenson offered him the vacant role of Student Trustee, praising his efficient and positive attitude.
Even though Alvarez is still considered Student Trustee in training, he will be officially charged by January.
"One thing I hope to bring as the new Student Trustee is to remind we are here to do our best job to represent and inform students," he said.
Alvarez joined the Associated Student Senate this semester, but the other Senators are impressed by the contribution he brings to the body.
"He has played a major role in organizing events, such as The Haunted Maze, which he managed to organize in less than three weeks and nevertheless did an amazing job," Peiris said.
If Alvarez is not busy working or studying on campus, Monday through Friday, he dedicates his time to the Transfer Achievement Program Club. A club focused for under-represented minority of students and Alvarez is the president.
Outside campus, he keeps himself active with a healthy life-style.
Alvarez trains every day at the gym, energized by music artists Nas, Black Star or some other old school hip-hop and he devotes Sundays to soccer.
"One of my biggest dreams is to be a professional soccer player," Alvarez said.
Alvarez plays every Sunday in the Santa Barbara League and even though he did not manage to be a part of the City College soccer team, he did not let this discourage him.
Every two weeks, he goes back home in LA to visit his family, siblings and girlfriend he's been dating for almost six years.
This current year is Alvarez's fourth and final year at City College and he will then apply to UCLA.
"When I came here I didn't know what College is, I didn't have a major and experience," he said. "But I learned not to limit myself."