Philosophy mixed with food benefits culinary arts program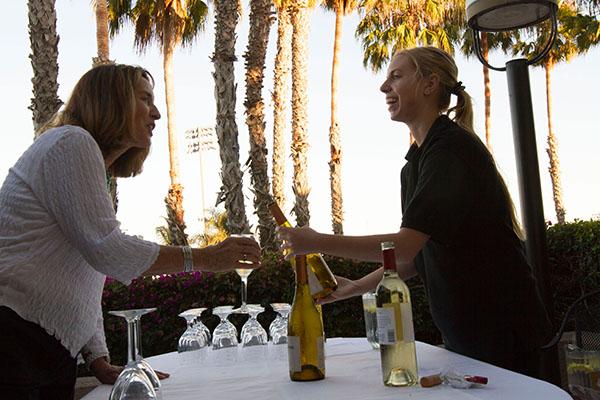 Hang on for a minute...we're trying to find some more stories you might like.
What does it mean to eat philosophically? From your mouth to your stomach, to your mind, body and soul, food philosophy is a full 360-degree process.
Santa Barbara culinary arts department chair Randy Bublitz and philosophy Professor Joe White teamed up for the ultimate dinner and philosophical experience during the "Food for Thought" fundraising event.
"Food doesn't exist until it is perceived," said White. "The presentation of food is knowledge by acquaintance."
Bublitz and his students prepared a five-course dinner menu for more than 35 attendees. The meal was partnered with wine selections donated by the Foley Food and Wine Society.
"It becomes a team effort," said Bublitz. "The students came together to do something different and cook something a little more unique."
Beginning with crab cake hors d'oeuvres, onto a salad of roasted beets with smoked trout, a seared veal chop with porcini glaze entree, and finishing with a cheese course paired with brioche and chocolate cheese torte. Attendees enjoyed a mouthful and mind stimulated evening.
In addition to the custom crafted menu, White analyzed five philosophical topics that relate to food. He examined the notion of food, how it is connected to our beliefs, ethics, and appreciation of good taste and food politics.
"When you have an event like this, all of these types of knowledge come together," said White. "Philosophy is a lot like food. The more the understanding is defined, the more we see the beauty of food."
He addressed and discussed fundamental questions about the meal.
"Be very critical of the food being served. Is it good?" said White.
The event was held Monday, Sept. 16, in the John Dunn Gourmet Dining Room and cost $45 for Santa Barbara culinary arts members and $55 for non-members. A portion of the proceeds benefit the Julia Child Endowment fund that provides annual scholarships for one or two select City College culinary students.
"The food was delicious and Joe White was amazing," Diana Cuttrell, founder of Dining With Di said. "He makes you think about what you're eating."