SBCC musicians swing back into the rhythm of playing in person
City College's bands are back to jamming together in person after a semester of online practices and performances.
"Outside we can go unmasked and thank goodness we have the breeze here, [it] is wonderful." Said James Mooy, Conductor of the City College Symphony Orchestra and Lunch Break Jazz Ensemble.
"We had the Big Band rehearsing here [outside] yesterday and so we were able to take our masks and bell covers off." 
On the occasion of practicing inside, the band has special musician masks that have a slit in them that allow those on wind instruments the ability to play and be masked. They also have bell covers for the instruments to ensure as many safety protocols as possible while still able to practice and social distancing.
"They're basically masks for the instruments," said Mooy.
The City College Symphony Orchestra is holding separate practices per section. The whole orchestra will be together for their first in-person show later this fall.
Social distancing and air purifiers are also being used in the classroom.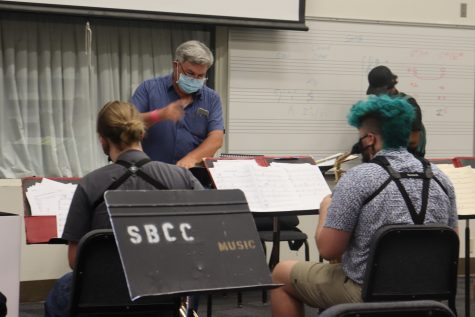 The Lunch Break Big Band was one of the few bands able to perform last year via Jamulus and YouTube. There, they were simultaneously able to practice and perform with one another remotely from Thousand Oaks to the Bay Area.
"As much as Jamulus was a great tool, the technological side of things made rehearsing really difficult," said Lunch Break member Jay Real. "In person, you just show up and you play and there's no timing issues. We're rehearsing in person again, it's awesome."
With the return of physical concerts, Mooy said he is looking forward to "any performance" right now. 
The theater plans to sell "pods" of tickets for those who are interested in attending.
The Lunch Break also has the opportunity to attend workshops with multi-Grammy winner Ted Nash of the Lincoln Center Jazz Orchestra.
The 6-week program will conclude with a performance on Oct. 9th at the Santa Barbara Museum of Art. The course gives students the chance to compose and play their own pieces inspired by art at the museum.
Ted Nash will also be performing with the award-winning SBCC Lunch Break Big Band at SoHo music club on Oct. 11 at 7 p.m.
"I can't wait to get them together," Mooy said about the upcoming semester's shows and projects.