When City College student Kamilla Bello sits down at the wheel to throw clay, she holds no expectations. The work translates her energy that day. If it's a good day, it's a good piece and vice versa.
The 22-year-old international marketing major's room is filled with life. The scent of essential oils in the air compliments the many plants that adorn the snug room, like the air-purifying snake plant or the devil's ivy hanging from the ceiling. 
The room is filled with music from a Kalimba, a wooden instrument from Zimbabwe.
"I love expressing myself, I love being authentic and sharing myself to other people," said Bello.
Story continues below advertisement
She is known in the City College art department for her "vagina cups", mugs, incense holders, and displaying her work on her Instagram, called Likha Awakening, meaning "to create awakening" in Tagalog.
She attributes the theme of femininity and female figures to her upbringing. 
"I was looking for someone to mother me," she said. "I never experienced that nourishing parental figure." 
"Aqua" and "Mama," are a couple of Bello's own favorite pieces.
"Aqua," the imperfectly glazed piece with streaks of different blues, resembles female genitalia or an oyster and its pearl, both symbolizing fertility. 
Mama, or "Nanay" in Tagalog, was made with Bello's own mother in mind. The dark blue and earth-toned piece of art bears breasts and a visible stomach.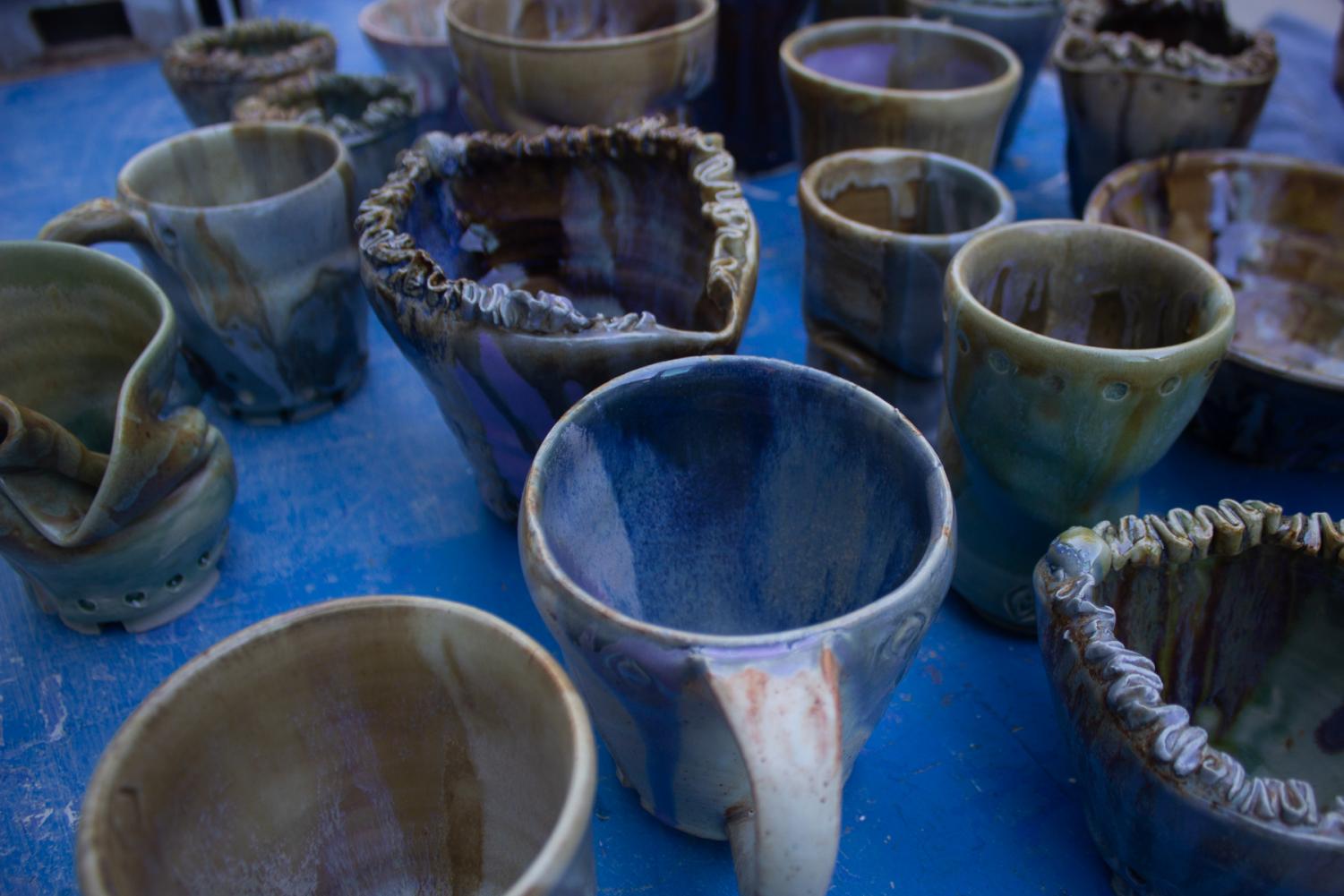 Growing up in the Philippines, Bello knew she didn't want to stay in one place. She moved to New Jersey for high school with her mother and returned to the Philippines to attend Miriam College in 2015.
While returning to her home country was a breath of fresh air, she began to feel stuck. 
"I wasn't growing in the environment I was in," Bello said. "If a flower doesn't grow, you change the environment, not the flower."
So, Bello bought a one-way ticket to Isla Vista with $1000 in her pocket after learning of City College from a close friend. 
An exciting plan at first, she quickly realized it wasn't sustainable. Bello moved around from Las Vegas to Los Angeles to save money until she eventually returned to Santa Barbara to settle. 
There, Bello grew a fascination with functional art after seeing a friend bring home various pieces from her ceramics class.
"Any sort of art that provides for other people is very healing for me because they're receiving something and it's nourishing to them," Bello said. "It's medicine to me, too."
Feeling like an outcast in a new place, Bello used social media as a way to make friends in an area she was not familiar with.
Aside from her own personal account, Bello set up a separate page for her art and creations. There, she sold clothes, jewelry, and shared recipes. She then expanded the direction of the account to feature and sell her ceramic art, while sharing and expressing herself all in the meantime. 
Selling or giving away a piece is a personal, emotional transaction to Bello. Every piece is one of a kind, harvesting an intimate appreciation. She thinks of them as her children.
"Kamilla as a person is one of those people who are so true to themselves that they have nothing to fear," said close friend and art major Hannah Vinson. "She doesn't shut her emotions up for anyone and it's very brave in my opinion."
Juggling the responsibilities of a full-time class schedule while working full-time is no easy task for Bello. 
Ceramics is a medium that kept her grounded at her lowest, helping her navigate the move to a new city and even an unhealthy relationship. 
Bello learns more about herself as she creates at the wheel. She learns about her restless habits and her connection to the process. Often creating multiple pieces at a time, she learned that art takes patience and she can't control the outcome. 
Bello carries this over to her personal life as well.
Describing herself as an eccentric artist with a tendency to love deeply, she jokes that her friends would coin her presence as a "sensual experience."
"She will always find a way to help someone either with a hug and a kiss, some essential oils, the perfect song to relate to, or just some water to hydrate," said Vinson. 
Looking to the future, Bello envisions traveling overseas, hoping to continue growing as a person and artist. 
"Always elevate and be better," she remarked. "A better person for myself, my cat and everyone."