Taking audiences from Earth to the surface of its seven neighboring planets, the City College symphony transcended the sold-out Garvin Theatre Sunday night, creating a cosmic musical atmosphere layered with instruments and projected visuals.
Conducted by James Mooy, the symphony opened the evening with two thematic pieces, "Intermezzo from Goyescas" by Enrique Granados and "Ballet Egyptien, Suite No. 1, Op. 12" by Alexandre Luigini. Both pieces equally allured the young and elderly in the audience, hinting at what was in store after intermission.
The 90-piece symphony's take on Gustav Holst's "The Planets" was one for the books. Holt's seven-movement orchestral suite, written in the early 1900s, dedicates each movement to a planet in our solar system, whose astrological character Holt tries to reflect in the suite.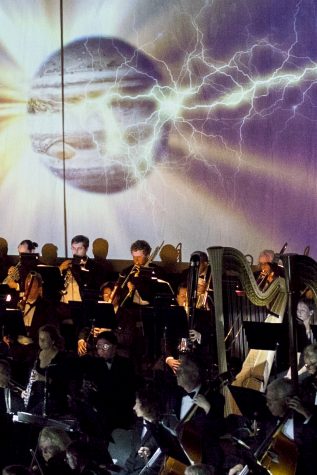 The opening "Mars, the Bringer of War" was a dark 5/4 piece filled with flame-fueled, warlike imagery projecting behind the musicians. At times the intensity of the Mars' eerie instrumental crescendos startled my body, whereas "Venus, the Bringer of Peace" followed with a more Disney-like innocence and enchanting melodies that gave polite introductions throughout the song.
Story continues below advertisement
Transitional elements and the fluctuating tempos backing "Mercury, the Winged Messenger" sent a clear understanding to the audience that there was more on the horizon.
Soon after came the largest gas planet in our solar system and it did not disappoint. The four uplifting themes backing "Jupiter, the Bringer of Jollity" spanned across a brass fanfare, a brisk march, folk dance and a hymn ode to an England-tributed hymn.
Chaos met simplicity for the other gas giant "Saturn, the Bringer of Old Age," which continued the journey with more enticing crescendos and was followed by the epic "Uranus, the Magician," a piece that bounced off the Garvin's walls with a champion-like energy.
The seventh and final piece was "Neptune, the Mystic," a pleasant trip supported by  a women's choir whose 24 heavenly harmonies poured down onto the audience from above.
Visually, the production was enticing and proved to be a successful first attempt for the symphony at using projections to accompany the music.The choice of moving images inside each planet was an astonishing visual interpretation of their unique elements.
As soon as everyone returned from the cosmos, a well-deserved acknowledgement for the musicians filled the theater. Although clouds blocked our view of NASA's InSight Mars lander launch the night before, Sunday night's musical exploration made up for it.