Dear MTD, please stop leaving our students behind
Channels Opinion Pages | EDITORIAL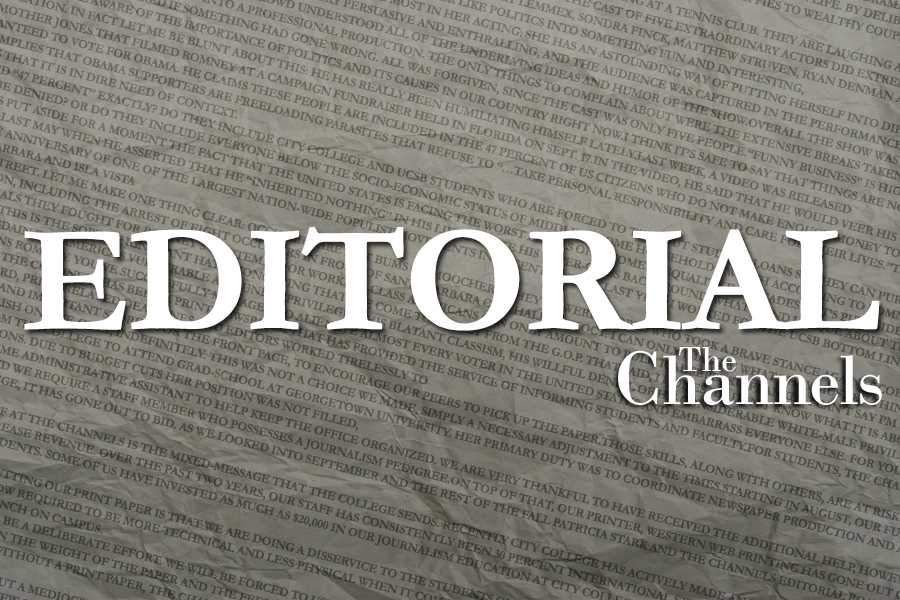 The Channels Editorial Board
April 18, 2014
A response to this editorial was published Monday, May 12, 2014.
The Metropolitan Transit District has announced its plans to handle complaints of overcrowding, tardiness and cost, but the results are simply not good enough.
City College and MTD have been in a fiscal tug-of-war since last spring. Recently, they settled on increasing the transportation fee for students from $26 to $30 per semester.
The hike in cost is understandable. City College students make up a majority of MTD's ridership and recently the transit district has been struggling to make ends meet. However, we expected some improvements to the hellish services students get from using their bus passes.
MTD apparently sought to meet City College halfway, but the approach fell flat. Instead, the transit district will install a bus tracking system designed for a computer, and estimated to cost $1 million, by the end of the year.
Along with vague promises of enhancements to the frequently travelled 15x and 24x busses, that's it.
The Channels editors urge MTD to put its money in one place: more busses and more service—not a tracking device.
We do not want a bus tracking system when busses are already scheduled to arrive at a certain time. Trust us, we know that if it's scheduled, a bus is coming—we've learned to give up hope on timeliness and the app won't change that.
What we desperately need are busses that don't resemble sardine tins; busses that don't leave behind half of the people waiting at their stop because there is no room.
Additionally, we need a bus that operates after the last class at City College gets out for the night so students have a safe ride home.
During the Associated Student Senate meeting on May 10, 2013, MTD agreed to renew its City College bus pass contract for 2014. Senators and MTD representatives agreed on the $30 price point.
MTD also proposed a solution for complaints about the busses, stating that it will increase services for City College-serving lines 24x, 15x, 4, 16 and 17. Mondays through Thursday, the 15x route will make four extra trips from Isla Vista to City College during the morning hours and one extra trip during the evening.
Nearly 30 additional trips would be added to the other City College routes.
However, at the most recent meeting with MTD, representatives George Amoon and Sherrie Fisher concluded their presentation with promises for new busses around UCSB, Isla Vista and the Camino Real Marketplace.
Are we supposed to be thrilled?
The only encouraging thing about the most recent meeting with the transit district was Amoon's ambiguous statement that MTD was considering bringing back accordion busses, which could hold up to 50 percent more people, for City College's most travelled lines, the 15x and 24x.
Our response to this is a resounding yes, but MTD should still do more.
Rather than spending that million dollars on a tracking system that will likely be rendered useless if not in the form of a smart phone app, MTD must assess where the money would be better spent.
If MTD prioritizes student needs, paying more for a bus pass will finally feel worth it.