Successful entrepreneur shares experience at Scheinfeld Center
Laughter filled City College's Fé Bland Forum Friday afternoon as Marty Neumeier reminisced on the beginning of his career.
As part of the Scheinfeld Center for Entrepreneurship and Innovation's Enlightened Entrepreneur Series, Neumeier, an American author and entrepreneur, joined Julie Samson, the director of the Scheinfeld Center, to speak to a large audience. The crowd ranged from City College business students to members of the Santa Barbara community.
"We are here for you," Samson said.
She began her speech by listing the extensive resources the Scheinfeld Center offers to students and community members, such as work experience, internships and guest speakers like Neumeier.
Although Neumeier influenced major tech companies such as Apple and Microsoft, he's also had a few of his own. In college he started an alternative greeting card company that ran for three years, until he lost it all overnight.
Today he is the director of transformation for Liquid Agency, a successful company that launches new brands while also guiding existing ones such as Nike, Facebook and Jeep.
Neumeier and Samson then began a conversation on what the role of designer entails.
"A designer is what allows you to put ideas on the table that weren't there before," Neumeier said.  He stressed that innovative minds are what shapes the world today.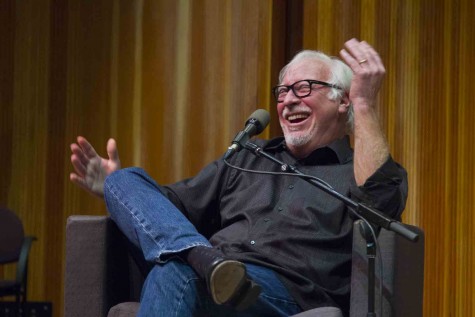 Neumeier mentioned by age seven he knew he wanted to be a designer. He recalled a moment in first grade when his teacher asked what he wanted to be when he grew up. One of his classmates said they wanted to be a "firetruck," while Neumeier said graphic designer, an aspiration that came from his mother.
As he went on to graduate from high school, he recounted a moment when his father asked him what he wanted to do. After telling him he wanted to design, Neumeier said his father was reluctant in supporting his career path.
Many students understood encountering the same resistance from parents, after hearing their child hopes to pursue an artistic career. This became a hot topic of the night, while Neumeier addressed how education needed to "catch up" and be more "in tune with creativity."
City College business student Courtney Sack came with her grandmother Ruth to watch Neumeier's lecture.
"He made me feel like he was just a normal guy," she said. One of her favorite parts was listening to how Neumeier spoke about the creativity and skill behind entrepreneurship.
Towards the end of the the Question and Answer, Neumeier and Samson both mentioned how essential it was to have a support system. This was something they felt strongly about in terms of a student's foundation.
"It's important that students place themselves where they are supported," Samson said. " We need that reflection of what we do well, sometimes we don't see it ourselves."