Democrat Salud Carbajal overtakes Justin Fareed in the race for 24th district congressional seat in the house of representatives, taking the place of long-leading Lois Capps.
As of Midnight Wednesday, Carbajal had won 55 percent of the votes, and Fareed 45 percent. With 248 precincts reporting, Carbajal had secured 66,029 votes, with Fareed falling behind with 48,571.
The 24th District has been represented by Democrat Lois Capps, who endorsed Carbajal, since 2013. The district reaches a portion of Ventura County all the way up to San Luis Obispo, and includes all of Santa Barbara County.
"There's a lot of work to be done, whether it's providing economic opportunities, expanding minimum wage, expanding financial aid and making sure students can refinance their debt," said Carbajal, speaking about his campaign-defining stance on middle class families.
Story continues below advertisement
The climate of the Mill in Santa Barbara, where the Democrats gathered, was tense. Nervous people anxiously watched the results of the election stream in.
"He's obviously vastly more qualified than this tuned up frat boy with no experience, running on his ego," said Daraka Larimore-Hall, secretary of the California Democratic Party of Republican opponent Justin Fareed.
Across the venue, party members could be seen shaking their heads, some fighting back tears as the results of the national election became increasingly red in contrast to blue-dominated Santa Barbara County. Despite the largest disappointment of the night, Democrats struggled to remain optimistic.
"This country needs a big blue beacon of hope like in Santa Barbara," Larimore-Hall said. "We are the optimists of the world. No matter what happens we will take that with us."
The Republican Party was held downtown at the Benchmark Eatery. It was filled with red, white and blue balloons and the mood was heavily patriotic as republican supporters gathered around two televisions.
Fareed arrived late into the night as results showed he was trailing behind.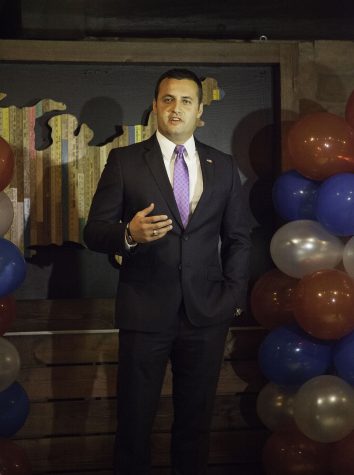 "This campaign started with nothing more than a vision of getting this country back on track," Fareed said. "One conversation led to two, two led to three and because of your support we were able to fill this campaign from the bottom up with people from all over the central coast."
Carbajal's campaign was grounded on supporting the middle class and veterans, strengthening the retirement system and creating good paying jobs. He also is working toward helping students to achieve a higher education.
The UC Santa Barbara graduate has a large background in politics, in contrast to Fareed. Since 2004, he has represented the 1st District for the Santa Barbara Board of Supervisors.
Carbajal has been endorsed by President Barack Obama, Presidential Nominee Hillary Clinton, Gov. Jerry Brown, Assemblymember Das Williams and Sen. Hannah-Beth Jackson amongst several other prominent national and community members. He was endorsed by City College Board Trustees Jonathan Abboud and Marty Blum, and Luz Reyes-Martin, Goleta Board Trustee member and City College Community Director.
Fareed believes that the 24th Congressional Districts greatest needs are a long-term water policy, infrastructure improvements and creating a business friendly environment. Fareed is in favor of improving our education system and believes, at 28-years-old, he speaks for the younger generation who don't have a voice in congress.
"This is the year in which lack of public service experience has been an advantage. Like many other elections this one is supposed to be about change," said Eskandari. "Fareed has an outside advantage which has worked and hasn't worked in previous elections."
Fareed has been endorsed by Ed Whitfield, Congressman Duncan Hunter, Assemblyman Katcho Achadjian, Santa Barbara County Supervisor Steve Lavagnino and many other local government officials.
"I support him [Carbajal] more because I'm just really against Justin Fareed," said Michael Ding, president of City College club Students for Salud.
"We can connect with him as millennials," Ding said. "He's a beacon."