SBCC hosts superintendent-president finalists in open forum
The Board of Trustees is set to meet Tuesday, April 26, to conduct closed interviews for who will become City College's next Superintendent-President.
The four finalists came together in a community forum held Monday, from 10 a.m. to 3:30 p.m., in the Garvin Theater.
The event was streamed live and a full recording will be available online by tomorrow morning, according to Luz Reyes-Martin, interim public information officer.
Of the five names announced by the board on April 14, only four finalists attended the forum. Dr. Barbara Kavalier withdrew her name from consideration prior to the event.
Marilynn Spaventa, City College's interim executive vice president, moderated the forum and asked each candidate the prepared questions. They ranged from which pressing issues candidates would address at City College, to how they will work with the community. They also inquired about their experiences with improving student success, equity and diversity.
One of the questions Spaventa asked to each finalist was, "What do you believe to be the biggest challenges facing community college students today and how have you addressed these challenges at your current campus?"
The forum was split in two sections; each candidate had 30 minutes to answer six pre-determined questions and then another 30 minutes to answer questions from students, staff and community members.
Jeanne Surber, a Santa Barbara resident and City College neighbor, asked each candidate a two-part question addressing enrollment issues and the controversial topic of student dorms.
"Dual enrollment aside, what would you do if selected to recruit and retain students from within our local area?" Surber asked. "And, second, what do you think of building dorms for out of area students for what is meant to be a community college?"
---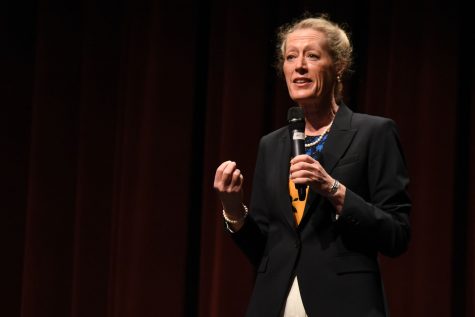 Dr. Melinda Nish, Southwestern College's superintendent-president, spoke for the whole time allotted for each of the two sections of the forum.
In response to the question of challenges community college students face and how they have been addressed at her current campus, Nish stated that she believed the two biggest obstacles are affordability and preparedness.
"I think that addressing the textbook issue in affordability is going to be a key for us," said Nish.
"Our faculty [has] approved a resolution for open educational resources, which means using high quality, online and zero cost resources rather than more expensive resources, books and other online resources from publishers."
When addressing the question from Surber about retaining local enrollment numbers, Nish explained that there will need to be a more in depth analyses about where local high schoolers are going after they graduate so that we can recruit more students that are not moving onto higher education.
She also explained that as a college, we would need to look at our current students, so that we may potentially improve enrollment by moving some of our part-time students to full-time.
"Am I opposed to dorms or do I support dorms? I've seen them effective and I've seen them noneffective," Nish said. "There are environmental concerns, density concerns, neighborhood quality concerns, and the only way you can work through these are with the community."
Nish also outlined that there are other issues that students face, such as housing, transportation, health services and food.  
---
Dr. Jill Stearns, current president at Modesto Junior College, spoke for 24 minutes during the first section of the forum and about 9 minutes for the second.
When discussing the challenges that community college students face, Stearns explained that, "the biggest challenge is really life."
"It's not the textbook, it's not how difficult the class is or the fact it required a research paper, it's their life, and it's the fact that so many of them have to work," Stearns said.
When addressing how these issues have been addressed at her campus, she pointed out that they have implemented "success coaches."
"…So that they have someone that is reaching out to them, so they know where to go when all of a sudden they have that life crisis moment," said Stearns. "Whether it's sick children, death of a parent [or] loss of a job. All of those things that would cause a student to stop out."
When responding on the question of local student enrollment, Stearns stated that one of the ways to increase numbers could be to increase "the number of units that individual students are enrolled in."
"There tends to be a lack of understanding because for financial aid, 12 units is considered full time enrollment, but 12 units a semester doesn't get you complete in two years," she said. "So the opportunity to encourage students to take a higher course load is one way that you might address that."
And on the topic of student dorms near campus, Stearns stated that she did not know the answer for Santa Barbara City College.
"But I think that is absolutely a conversation that needs to occur both on the campus and with the community," Stearns said. "Because this may be a place where it absolutely makes sense, but it may not."
---
Dr. Anthony Beebe, San Diego City College's superintendent-president, said he learned the value of hard work growing up on a cattle ranch. He was the first in his family to attend college and said he was, "more distracted in college with playing basketball and chasing his girlfriend," than actually getting through school. He finally made it through college after realizing his love for teaching, and knew that he must get a degree to become a teacher.
In response to question one, about the major issues facing City College, Beebe listed three items, with the first being enrollment management.
"Because the economy has turned around, there are fewer and fewer people across the country who need to go to school…." he said. "People are at work they're not having to come to college."
He also said he'd like to look at the finances of the college and "get into some scenario planning about 3-5 years out." Thirdly, he said the college must focus on reconnecting with the community.
"Being able to work with the community," said Beebe. "And have the community come to the college and understand the issues that we're up against here."
When asked question six, about the problems students today face, Beebe responded with college readiness. However, he stressed that this was a responsibility of the institution rather than the students struggling with it.
"I think blaming the student, or saying that it's the students challenge, really shifts all of that to something else," said Beebe.
He listed financial debt as another issue students face, saying it was potentially bigger than college readiness.
"The problem of being able to come to college, get done with college and be able to get a job," said Beebe. "And not be so far in debt that it's going to hold you back for a good portion of your working life."
Finally, in response to Surber's question about enrollment and housing, he said he puts local students first.
"I'm a local person, in terms of local community colleges," he said. "I am not a big supporter of bringing in international students."
---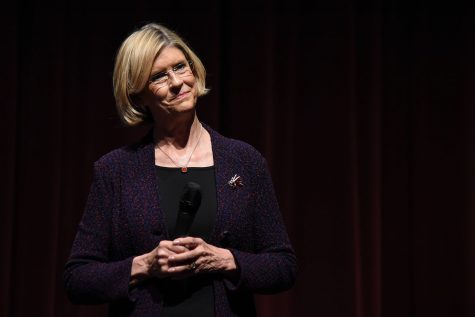 Dr. Kindred Murillo, superintendent-president of Lake Tahoe Community College, was the last finalist to speak.
She introduced herself by asking the audience to call her Kindred instead of Dr. Murillo, saying "I like being a person."
She described herself as an inclusionary leader with high expectations, and emphasized breaking down the barriers between the school and community.
In response to question six regarding the issues students face today, she addressed several problems.
"The emotional side of me says, 'hope,'" said Murillo. " I feel like our college kids these days, they don't have the hope I did when I went to community college, because there's so many issues out there; and it's because of college affordability, because of the cost of housing in that component, the cost of tuition and the cost of the things like textbooks."
She discussed ways to help students such as scholarships, book loan programs and housing. Murillo also named resilience and preparedness as areas for improvement in increasing student success.
In response to question one about the college's most pressing issues, she stated a few.
The first issue Murillo said she would tackle is working with the community.
"My very first thing is to go out and deal with the issue of engaging and helping the community understand the value of your institution," she said. "Looking at yourself from the outside in is always an important exercise."
She spoke of an excellent experience she had with a visioning session at Lake Tahoe community college, in which she invited the community in and asked, "Why do you love this college or why don't you love this college?"
Murillo said the answers aren't always easy to hear, but are critical to the college's improvement. She also listed stabilizing enrollment, and student equity and success as top priorities.
"I think student equity is something that leads to student success," said Murillo.
Lastly, in answering Surber's question about enrollment and housing, she emphasized the importance of understanding the statistics on City College students and not comparing it to other colleges.
"One of the unique pieces of City College is that it is going to draw students from all over the state" said Murillo. "Because it is a feeder school to UCSB."
She also noted that in Tahoe, the administration looked at highschool capture rates and adult participation rates, two areas in which Santa Barbara City College is leading the state.
"So you are accessing your local community," said Murillo. "You are bringing the students in."
She also said she's learned that the students who leave the community are often those who can afford to attend college elsewhere, and therefore she focuses on serving those who cannot afford to leave the area.
Murillo said she hopes to partner with the community in addressing housing.
"I guess my question for you would be how can we help the community, and how can we work with the community in a way that can solve this problem together?" she said. "Because I think that's what we have to do. People have to sit down and we have to really figure out what is going to work here, in a way that is going to allow that global environment on a campus, which enriches our students experience, and one where people like you who love this college and are neighbors of this college, can buy into and appreciate."