Tropicana Gardens continues to offer housing for SBCC students
Despite rumors and confusion, Tropicana Gardens directors have stated that they will continue to provide housing for City College students next year.
"What we really want to highlight is that we are going to continue housing for City College students next year and in the foreseeable future," said Dave Wilcox, executive director for Tropicana student living.
Tropicana Gardens, located in the heart of Isla Vista on El Colegio Road, has been home to hundreds of students over the years. After the University of California bought the complex earlier this year from a Chicago investor for $92 million, it has been unclear whether the private residence hall will still be provided as housing for City College students in the future.
"I don't know. It would be great if they still choose to rent to City College students because they want that opportunity," said Amy Collins, student life and housing adviser. "Parents want to know that [their children] are being fed, that there is an RA looking out for them, that there are activities to do and especially if they are going to transfer to UCSB, that they are getting used to that atmosphere."
The Isla Vista Financial Analysis Study shows that UCSB purchased the Tropicana complex in an effort to "provide more oversight with the ability to enforce campus rules and regulations and provide greater neighborhood safety to both student residents and residents of the community."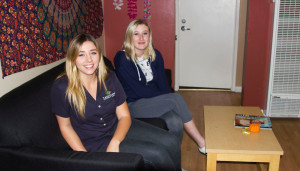 This study also showed that before the University's purchase, the property brought in over $1 million in property taxes for the county, money that will be lost because Universities are not required to pay these taxes.
The Independent reported on Oct. 12 that, "UCSB announced the University of California had purchased three Tropicana student-housing properties, which will eventually displace about 500 SBCC students."
"I've been hearing rumors…" said Quia Betson, customer service representative for the residence hall. "But I've seen that contracts have been a little late coming out, so I'm guessing whoever is taking over, UCSB I guess, is actually doing this."
However, UCSB news directors Andrea Estrada and George Foulsham have responded with no solid answers.
"Regarding your questions about Tropicana Gardens' availability to Santa Barbara City College students and about administration in general, I don't have firm answers to either," said Estrada in an email. "Both of those issues remain under discussion, and no final decisions have been made."
On the other hand, Wilcox stated that their management plans to continue operating the same way they have in the past, despite the University's purchase.
"It's unreliable sources," said Wilcox when asked about the circulating rumors. "They haven't gone straight to the horse's mouth."
Tropicana Gardens features 279 bedrooms and houses over 500 City College students, giving many students the chance to experience dorm-like living despite not attending a university.
Amenities offered by the complex include over 200 programs and activities for students, such as tutoring, a 15X bus stop outside the complex and a 24-hour study lounge.
"We don't plan for any of this to change," Wilcox said. "We love housing City College students; they have been outstanding for us."