City College student displaced due to Isla Vista cliff collapse
City College student Brandi Coghill came home from the grocery store on a regular afternoon to find that part of her apartment's balcony had collapsed into the ocean due to erosion.
"We pulled into our driveway and there were just a lot of people crowded around our gates," Coghill said. "Everyone was just crowded around the edge… It was kinda scary."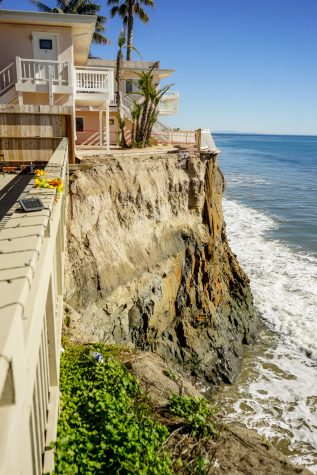 Coghill arrived home moments after the bluff caved in around 5:00 p.m. Sunday, Jan. 22 at 6651 and 6653 Del Playa Drive in Isla Vista.
"My first instinct was, 'is everyone okay?!'" Coghill said. "I called my mom right after. She went straight into emergency mom mode."
After ensuring her parents she was alright, they called the owner of the apartment building to get information about the collapse.
The fire department arrived soon after Coghill to help residents safely evacuate the premises. They were only given 25 minutes to clear out of the building.
Tenants then waited outside for approximately five to six hours for engineers to finish inspecting the damage. Coghill said personnel also had to find a new place for residents to stay for the next couple of day.
All 35 tenants affected by the collapse have been accommodated for. Some have found new housing at residences like Tropicana Gardens, a residence hall located on El Colegio Road.
Coghill was eventually able to find a new place in Isla Vista after couch-surfing at her friend's house for a few nights. She said school and work had to be put aside so she could get her life put back together.
Re-telling the collapse story over to each of her professors and boss to explain why she needed time away from her priorities to get settled was stressful for Coghill. In the end, everyone accommodated to her needs as the disaster was out of her control, she said.
Once her and her roommates were able to find a new residence to stay at for the remainder of the semester, Coghill said that it was nice to have one less thing to worry about.
Coghill said that she and her roommates are thankful for their new living arrangements even though their new rooms are smaller and the nothing compares to being beach side on Del Playa.
Although Coghill will miss waking up to an ocean view, her and her roommates are happy that no one was harmed.