Night classes now offered by SBCC cosmetology program
City College's cosmetology program has added night classes to their agenda this semester for students who are too busy during the day.
"I get to work during the day and hang out with my family," said cosmetology student Karianna Farmer. "I can still make money and pay for my car and rent."
The program is designed for students to be able to maintain their full-time job or to take care of their family during the day.
The cosmetology school is a year-round program. In California, students are required to complete 1,600 hours in order to take the exam to become a licensed cosmetologist.
Since the evening students are part-time, this process can take up to 26 months. For students in the daytime program, it takes closer to 13.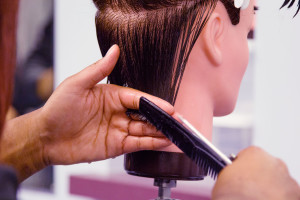 Students are required to complete five modules in the cosmetology program. The first two will be completed next year.
The first section teaches students cutting and styling techniques on mannequin heads as well as manicures. For the evening students, this section ends in late February 2016. The second section starts March 1, and students will begin to practice their knowledge on clients.
Low-cost services like manicures and haircuts are available during the day and will start in the evening next semester.
"I didn't further my education when I was younger," said cosmetology student Alma Rosia Ortiz. "This is something I have been wanting to do ever since I graduated high school."
The cosmetology school had a night program up until 2009, but it was considered to be too long and it eventually closed.
This time around, the program has modified its schedule. Monday through Thursday, students start their class at 5 p.m. and end at 8:30 p.m. They have Friday off and go in for a few hours in the morning on Saturday.
"We had inquiries and a lot of people asking," Griselda Rosas, chair of the cosmetology department said. "We feel that we serve the community better by offering this program."
The school is also very different than other cosmetology schools. Private cosmetology schools can cost up to $20,000 for training. At City College, without financial aid, it costs $5,000 and the student earns an associate degree in cosmetology.
Not only is the cost different, so is the training. The daytime students have three months before they begin practicing on clients, while the nighttime students have five. In other schools, students get about one or two months of formal training and then begin the process.
"The instruction is really great because it's like a private class since there is only nine of us," Farmer said. "It's almost like one on one training, so it makes it a lot better."