SBCC Career Center helps guide students toward bright futures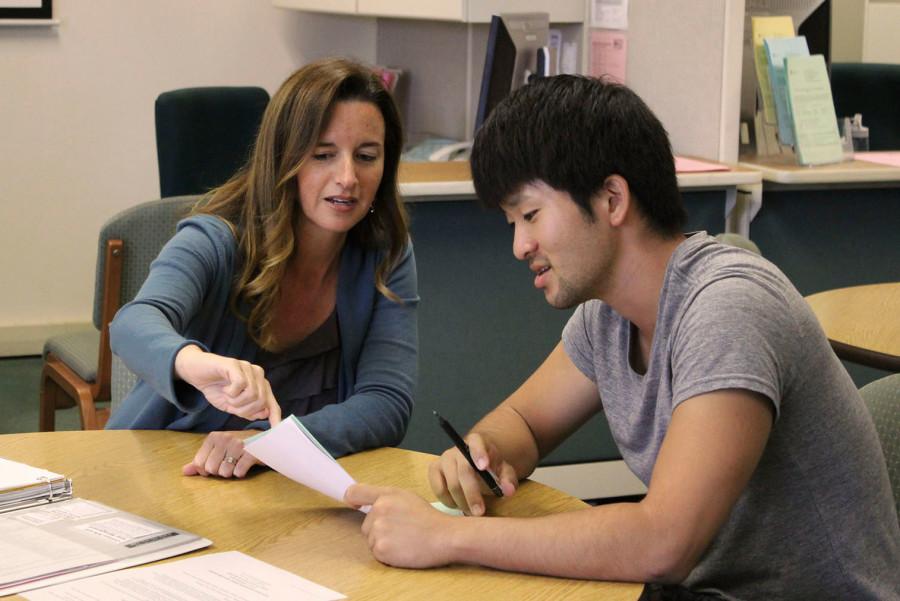 Student worker Terrance Brown remembers an elderly woman's joyful tears after her visit to the Career Center at City College.
"She said she felt like she didn't belong there because of her age and like everybody kept pushing her to the side downstairs," Brown said. "She almost gave up. And she said I motivated her."
The next day, the woman came back to thank him with a Starbucks gift card.
In Student Services Building Room 282, the Career Center provides students with guidance ranging from resume advice and mock interviews, to career counseling and help choosing majors.
Brown initially visited the center for help finding a job, but said after seeing how nice the counselors were, he decided he had to work there. He also bought the $30 Career Assessment packet, which includes the Myers-Briggs test and another interest test, as well as a counseling session.
"It tells you a lot things you never knew about yourself," Brown said. "And so it's kinda scary to me because it hit it right on the point, so it's a good test to take. And you get the tests interpreted by great counselors."
Career Counselor Jenny Cooper said that students often ask what jobs make the most money, but that the most important part of career planning is finding a major and career that matches each individual.
"A lot of people try to fit themselves into somebody else's box of requirements," said Cooper. "But what we're doing is [saying] no, you're your own shaped box, so try to find something that fits you."
Some of the Career Center's services include:
Career Counseling, on a drop-in basis

The Job Connection

, "an online listing of student jobs, internships and volunteer opportunities."

Work Experience Classes

"Choose a Major" activities, including

workshops

Eureka.org

, a national database with information about many occupations

Help with resumes, interview preparation and networking
Cooper said she loves her job and what the center offers students in addition to the practical tools.
"The emotional things that they leave with are courage and confidence and hope," said Cooper. "I've been here for 20 years and this is very consistent, they're encouraged and they have courage."
The center helps a wide variety of students, from international to continuing education.
Student Fariel Soeleiman from Suriname, South America, visited the center for resume help. She speaks Dutch, Spanish, French and Sranan, a common language in Suriname. She said that Cooper helped identify her language skills as some of her strengths.
"The best part was just her getting to know you as a person, she also connects personality traits and stuff like that to your resume," Soeleiman said. "Like she put all my languages in it, I mean, she put things that she noticed."
The Career Center is open Monday and Thursday from 8:00 to 4:15 p.m., Tuesday and Wednesday 8:00 to 5:00 p.m. and Friday 8:00 to 1:00 p.m. Many of its services are also available online on the SBCC Career Center webpage.
"It's kind of like a trampoline, people springboard into their future," Cooper said. "That's what we do, we help people, connect them with their purpose."