SBCC coordinator awarded 2014 Classified Employee of the Year
The 2014 Classified Employee of the Year was announced at the Board of Trustees meeting on Thursday to a room full of supportive staff members and family.
Elizabeth Stein, career technology program outreach coordinator, was selected by her peers to receive the honor. She has worked at City College since 2003 and volunteers for many committees and outreach programs on and off campus.
"I was that kid in the community college system that was lost and had no access," Stein said. "That's why I do what I do."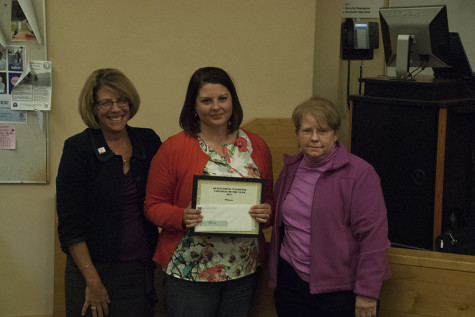 Along with being recognized for her work, Stein received a $1,000 check.
Last year, controversy arose over the difference in award money when the Outstanding Administrator of the Year received $2,000 while the Classified Employee of the Year recieved $1,000. The issue has since been resolved. Now, both administrators and classified employees are awarded the same amount.
Honorable mentions were:
Robert Mendoza, duplications technician
Emma Cruz, student support office assistant
Scott Kennedy, information systems specialist
Shelby Harrington, international student advisor
Superintendent President Dr. Lori Gaskin described the honorees as the campus' "silent heroes."