Leaning against an office wall attached to a dark wooden plaque rests the award given to City College's online literary journal "Painted Cave."
Last month, "Painted Cave" won the award for being the best online student-run literary journal of California community colleges after two years of being in production.
"I think it's very important for writers to get to know each other and support each other," said "Painted Cave" Poetry Editor Kathryn Lubahn. "Journals are like a hub or coffee shop where we get to read each other's' work."
City College English professor and adviser Chella Courington started "Painted Cave" after she went on a sabbatical leave.
Story continues below advertisement
"My project on that sabbatical was to create a literary journal," Courington said. " I felt that we needed a journal here at City College."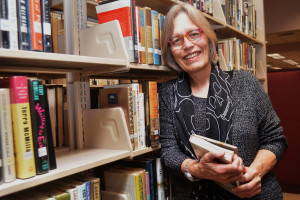 Courington is on the board for the English Council of California Two-Year Colleges. The council not only gives awards for online journals, but print journals as well. The main guidelines for submission required the journal to be student-driven and faculty advised.
When the publication first started in spring 2014, they had a small crew of three editors and the advisor. Each editor was assigned to one of the genres, poetry, fiction and creative nonfiction. The 2015 staff now has three editors for each genre.
"Painted Cave," publishes twice a school year, once at the end of the fall semester and the second at the end of spring.
"When we first started, I thought we should publish once a year," Courington said. "As time went on, I didn't think that was frequent enough to stay in the public eye. That's when we came out with our second issue in fall of 2014."
City College is not the only school with access to contribute to "Painted Cave." Students from all over the country are allowed to submit their works through online submissions. Last issue, there were six states where students from different community colleges were represented. Besides California, students from Arizona, Connecticut, Massachusetts, Oregon and Utah submitted pieces as well.
In order to submit literary pieces, the writer must be enrolled in a community college. Students that are not enrolled in two-year colleges are unable to send in a submission.
"My favorite part of being a non-fictional editor for the past two issues was getting to read so many personal stories," said Fiction Editor Haley Walrath. "Having people share such raw emotional stories with complete strangers takes a lot of courage. I felt honored to be trusted with such personal material."
The next publication from "Painted Cave" will be issued in December.