A Year Without War growing in popularity internationally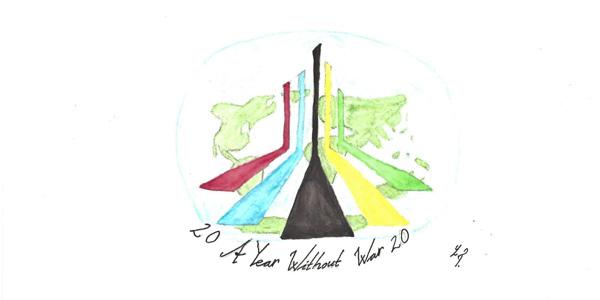 A Year Without War's blog is up and posting, people from 83 countries have visited their website, and their auction site which is available through eBay, is on its way.
The project, a City College-based organization, was conceptualized by philosophy professor Joe White in 2010, with the sole purpose of internationally stopping war for one year in 2020.
The project has, in two years, gained approximately 2,000 members with that number growing exponentially.
"Our goal at this point is to become an active presence on the web with all things that have to do with war and the stopping of war," said White.
The project is now recruiting more volunteers and currently developing a new section of their website that will act as a new source of revenue.
The auction site will allow people to donate art pieces, memorabilia, or anything of value to the organization, which will be sold to bidders through eBay. All the money raised from the auctions will go directly to fund A Year Without War with their future endeavors.
"The auction site is going to be wonderful for us," volunteer Katherine Pepe said. "Anything that people donate will also be available as a tax write-off."
The volunteers, who are overseen by fellow volunteer and student Jessica Ly, accomplish much of the groundwork done by the association.
"We have people that can contribute music, paintings, and photography," Ly said. "As long as you're contributing your time and effort in any way, we really appreciate it."
Many of the volunteers find that their creative talents can be fostered in working for the project. The organization created a video for the Richard Oaks Multicultural Center Video Awards at San Francisco State University in December. It was awarded third place.
"We were the only video to place that wasn't based from SFSU," said Pepe.
The organization looks to further strengthen their foundation in the community by reaching out to schools in the area and sharing their vision with other sororities, fraternities, and universities.
"I went last Monday and gave a brief introduction to eight sororities about A Year Without War," said Pepe.  "I got a lot of people to just listen, which is the first step."
Next, Pepe hopes to have an in-depth interview with the head of these sororities to have them endorse A Year Without War.
Their goals may seem ambitious to some, however the staff driving the cause believes that with whatever help they can get, we can achieve a year without war in 2020.
"It doesn't take a whole lot from one person," Pepe said. "It takes a little from a bunch of people, which has been Joe's motto for a while now."