City College's Honors Society's motto is "Expect More. Be More." 
This ideology has been illustrated throughout Honors Co-President Sarah Do's planning and preparation for her Scheinfield Passion Project, an entrepreneurial community for growing and implementing student passions, from businesses to events.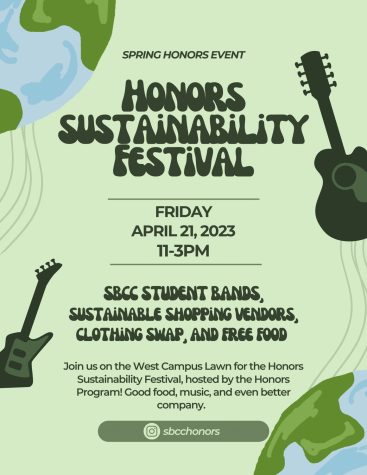 Do's project is the upcoming Honors Sustainability Festival, which will be from 11 a.m. to 3 p.m. on Friday, April 21 on the West Campus Lawn. The festival aims to promote sustainable shopping practices among students. The event is open to the entire City College community, not just honor students. According to Do, participants will be able to shop sustainable student-run businesses, take part in clothing swaps, and enjoy live local musical acts and free food. 
"Do you know Thriftopia?" the co-president asked, "Well I saw that and thought, 'how can I do this better?'" 
Story continues below advertisement
According to Do, sustainability has always been at the forefront of her life. Growing up in Milpitas, California, the now 19-year-old spent days scouring San Jose thrift stores with her mother and sister from as young as middle school. During this time, she quickly learned the importance of treasuring existing clothing, instead of participating in fast fashion trend cycles.  
"The target demographic for fast fashion is high schoolers, middle schoolers, and people who just don't have that much money since they're in school," Do explained.
To combat this phenomenon, Do and her sister co-started their own business, an online storefront for upcycled clothing and jewelry called Upcycled by Do. The sisters aim to provide sustainable clothing at an obtainable price by mending thrifted goods and handcrafting jewelry.
"Buying sustainable clothes is so expensive," Do said, "The average person can't afford that kind of stuff. I wanted to bring sustainable fashion in an affordable way that young kids can afford."
Do's business experience was a large inspiration behind the Sustainability Fair. 
"I knew I wanted to focus on student-run businesses," she said.
While the economics major has scaled down her involvement in the business, Upcycled by Do is actively run by her younger sister, and even has a physical storefront in a thrift store located in San Jose. 
Do credits her family as her greatest inspiration. Her mother, who immigrated from Vietnam at the age of 14, taught Do a variety of skills from sewing to perseverance and kindness.
"She's always kind, and that's the biggest indicator of strength, to be kind even through hardships," Do said. 
Furthermore, Do was inspired by her cousin, who moved to Paris to attend education in the arts.
"In Asian culture, you don't typically see that many people pursuing arts. Seeing that example gave me the confidence to pursue liberal arts," the 19-year-old said.
These principles have become a driving force behind Do's current attitudes toward life and leadership. The co-president has taken on multiple student leadership roles throughout her schooling, including the president of her middle school. However, she shied away from large-scale positions in high school due to fear of backlash from her predominantly white, catholic private school in favor of club leadership roles. 
After the pandemic, Do arrived at City College and was inspired to branch back out. She became the honors co-president after being nominated by her fellow honors peers alongside Divya Ramesh. Together, the pair swiftly made progress on several honors events and field trips. 
"[Do] does not waste time in planning events, from field trips to the Women's History Month tea party," said Marc Bobro, honors program director. 
Do's momentum has not slowed. According to Do, when she is not executing Honors events, she is constantly learning new things, from coding to ballet. Heading forward, Do hopes to achieve her doctorate in a liberal arts subject, live by the beach, and be "at peace."
"Sarah Do is one of those rare people who not only is full of interesting ideas, but also is willing and able to execute those ideas," Bobro said.