City College established the Applied Music program that allows students to access private lessons with a professor who specializes in their specific field of music, it also grants students the ability to obtain an extra course credit.
Eric Heidner, a UCSB alumni who has been directing music courses at City College for 20 years explains that with City College being the first two-year college to launch this type of program in California, it has not only paved the way for success in the music industry, but has also made that success more accessible to the community. The music department's faculty offers a variety of classes, ranging from strings, to percussion, to winds, and vocal lessons. With the professors' attention to detail, students will learn to fine-tune their technique, and enhance their musicality.
"Our outstanding music department is a bright shining beacon [that demonstrates] why our college was voted best in the nation," Heidner said. 
According to Heidner, the staff, many of whom are professional performers, is great at adapting to the diverse skill sets that flow in and out of the classroom. Every lesson is tailored to align with a student's strengths or weaknesses, and personally adjusted to reach their desired achievement. 
Story continues below advertisement
"We go above and beyond because we need to see the growth of our community," the Santa Barbara native said. "We are cultivating the idea of music being a life-long learning process."
In order for students to be eligible for this program, they must meet a set of requirements. Students have to be music majors, meaning they must be enrolled in a music theory class and take part in an ensemble of choice, including the concert band, jazz band, or choir. Once requirements are succeeded, students can then audition in front of a panel of judges at the beginning of each semester, who will offer the lessons to whoever shows the most promise.
Music major Ethan Fossum is a part of the applied program, who has been refining his drumming skills alongside Professor Ed Smith for three semesters. He plans to secure a sustainable career as a professional musician. 
"[The program] offers a lot of opportunities to perform and work with industry professionals," Fossum said. "It's super inspiring and informative."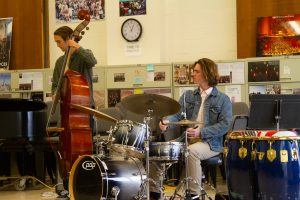 For music enthusiasts like Fossum, every note, strain and melody forms a "visceral experience." The joy that comes with creating that impassioned atmosphere for themselves and for others is unmatched, always leaving them wanting more. 
"Music has the ability to lift you up or slow you down," Fossum said. "But it's a creative vehicle that makes you feel the art."
In the pursuit of music, being as immersed in it as possible, whether it's in a garage band or a barbershop quartet, is paramount to an enriched lifestyle. 
"Balance out your education [with the arts]," Heidner said. "STEM is wonderful, but STEAM is what will make life worth living."
The next Applied Music recital is on March 17, beginning at 12:30 p.m. in DM-101, where the applied students will showcase their work with their professors.