In the city of Santa Barbara, harmonious white buildings, embellished with vibrant red-tiled roofs, and views of the ocean's waves crashing just before the front yards of beachfront homes illustrate the aesthetic of the city that holds a magnetic appeal. 
While the rich history exhibited in the spirit of the city's Spanish colonial architecture and the enticing environment continues to lure people in, many residents that have made up the city's population for generations can no longer withstand the cost of living. 
Lucrezia de León, an architectural designer with Vanguard Planning, spoke alongside several other speakers at an open forum discussion panel regarding concerns over housing on Feb. 9 in the Santa Barbara Public Library. 
She said that according to the U.S. Department of Housing and Urban Development, spending 30% of one's income on rent is considered a cost burden while spending 50% of one's income on rent is considered a "severe" cost burden. 
Story continues below advertisement
"Right now in the city of Santa Barbara, people are spending about 70% of their income, so that's beyond extreme cost burden," de León said.
Every eight years, California jurisdictions must update their Housing Element, or their city's plan for housing, to outline the zones where they intend to build developments. Santa Barbara did not meet the state's deadline as of Feb. 15 to provide a draft for enough affordable housing to account for the amount of people with low incomes residing in the city. Revisions need to be made before the state's approval so that it includes specific sites for more new developments and a comprehensive plan to accommodate for 5,664 more units, and 73% of these units must be within the South County.
It is a multi-year process that people in desperate need of housing can not afford to wait for. 
"It's been building for decades," said Director of Planning and Development Lisa Plowman. "It's a decades old problem… which is why the state is getting much more forceful about it."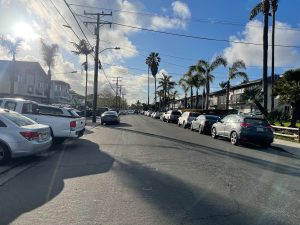 Another speaker at the Feb. 9 panel, Frank Rodriguez, a policy and communications associate for the Central Coast Alliance United for a Sustainable Economy, emphasized the importance of "development without displacement," and identified wage disparities as a key factor embedded at the core of the affordable housing deficit. 
Landlords searching to renovate aged units set their target on the backs of low income renters who can not afford the price increase that comes with redevelopment, which allows fresh renters to be brought in. 
"There's a lot of priority on aesthetics over human lives," Rodriguez said. "There's a lot of priority on really trying to keep the wealth and build that wealth, compared to the working class community that Santa Barbara was, right before it became popular, right before folks started moving here."
Though organizations such as The Housing Authority of the County of Santa Barbara exist to provide affordable housing, the waitlists for people to apply and to be approved are invariably full as "the need outstrips the supply substantially," according to Plowman.  
Many community members are forced to abandon their homes, pack their belongings, move to cities within their income's bounds, and commute to their jobs because they can not find available affordable housing within Santa Barbara, according to the director of planning and development. 
"We have teachers who can't live here, we have first responders that can't live here, we have nurses, we have doctors, we have people who deliver our mail, people who check us out at the grocery store, I mean there's a huge percentage of our population that cannot afford to live here," Plowman said. 
The flood of students moving to Santa Barbara further encourages the displacement of communities of color and longtime residents, and is another issue within itself as students accepted into the University of California Santa Barbara and City College feel the pressure to find available housing in a limited market. 
A competitive environment among searching students feeds into the exploitative tendencies of leasing companies who increase their rental prices each year.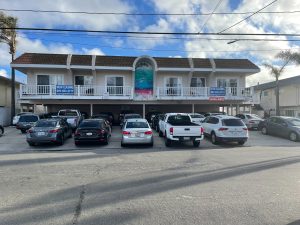 "We don't have rent control here," Plowman said. "If the market keeps paying it, they'll keep charging it. Students are caught and their families are caught."
Promising signs reading "Call our office to lease today!" line the balconies of apartment buildings in Isla Vista, though eager students with hopes of finding any available units are let down as the listed phone number informs them of only fully leased units for the 2023-2024 school year. UCSB student Grace Freese lives in a garage shared with her roommate for $820 a month in a house with 10 girls, and considers herself to be one of the "lucky" ones in regards to finding housing, unlike others who cram into mold-infested bedrooms with three other people for a higher price.
As the city revises and solidifies their Housing Element plan, different corners of the community hold staggering opinions on potential solutions for the issue with an urgent deadline.
"There's a lot of concern in the community about change, and about sites that would be rezoned and loss of open spaces, but it really needs to be balanced with trying to meet the needs in our community, which are really substantial," Plowman said.