A diverse range of voices spoke at a multiraciality discussion panel on a stage at 1 p.m. on Feb. 11 at the forefront of Soul Bites restaurant.
The panelist's lives fueled their response to the topic, "Choice of Colors: Multiraciality In A Divided Society," making way for the education of the community and giving insight to what living as a multiracial person is like in today's world. 
Santa Barbara Black Culture House put on the event, with a mission to reach the community and serve the city of Santa Barbara well through their efforts according to Sally A. Foxen-McNeill.
"Santa Barbara Black Culture House is a pop up cultural event space, celebrating Black art, Black culture, Black life, Black everything, all good things Black because Black excellence happens year round,"  Darell M. McNeill said, co-founder of  Santa Barbara Black Culture House.
Story continues below advertisement
This organization, completely funded by its founders and grants from the city, has worked its way to building a more culturally accepting atmosphere in Santa Barbara through acceptance of all people from all backgrounds.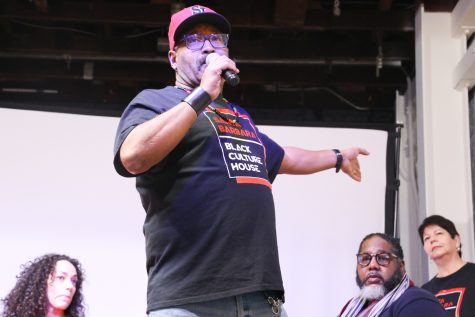 After starting the organization with just a dream and some plans in 2018, the co-founders, Foxen-McNeill and McNeill, set up their first pop-up event in February 2020. 
The event was propelled into momentum just before COVID-19 put everything online. The next year's pop-up events, which were held only on Zoom, left the community to wait for later in person events. 
These events, while they spurred conversation and intellectual thinking, continue to pursue the ultimate goal of getting to know people at events such as the panel on Saturday. 
"It's for the love of the community," Foxen-McNeill said. 
"We try to create a safe space for everybody, so that it's not just for Black and Brown folk, it's not just for white folk; it's for everybody," Foxen-McNeill said. 
The McNeill's found significance in loving people drove them to continue to host event pop ups and panels for the Santa Barbara community to come together and have the ability to talk about the issues faced in today's world. 
"We are a multi-racial, multi-ethnic, multi-everything nation, but there's so many people that don't want to accept that," Foxen-McNeill said. 
The Santa Barbara Black Culture House sheds light on topics not discussed through hard conversations and talking about rough experiences of people. 
Akil Asim Hill, City College's student equity committee and panelist spoke about his life as a Black person and his efforts to provide City College students with resources to supplement their academic experience and encourage Black joy amidst the darkness. 
"We talk about Black death often, we talk about police brutality, we talk about just all the "isms" and the pain, but where is the joy? Do you want to talk about the rhythm or the blues?" Hill said. 
Hill talked about news focused on Black death and tragedy versus the representation of Black accomplishments and joy. 
The Santa Barbara Black Culture House continues to host and plan events by reaching the community through different events, including the "Live Jazz & Funk with Funky Neighbors" on Saturday Feb. 25 at Soul Bites restaurant.