"Wellness with Words" workshop creates a safe space for students
Expression through words gives way to a unique and creative outlet that aids in healing and emotional growth. In efforts to destigmatize the conversation of mental health, City College offered a "Wellness with Words" workshop on Wednesday, Nov. 16. 
City College's Student Health Services, The Well, Disability Services and Programs for Students and The Creative Writing Program partnered with Art With Impact, an art and media non-profit platform that promotes mental health wellness for the younger generations to provide this workshop for students. Facilitator for Wellness In Words Britt Martinez-Hewitt, guided a two-hour educational interactive workshop where spoken poetry and creative writing were used as a tool for exercising the art of writing with deliberation.
As students arrived they were welcomed with snacks, free raffle tickets, and a packet of writing prompts that would guide them through the evening. The workshop began with a communal meditation, leaving space for setting intentions, self-reflection, and gratitude. Each guest was encouraged to share their own thoughts and opinions about mental health and how unique it is for each individual at every stage of their wellness.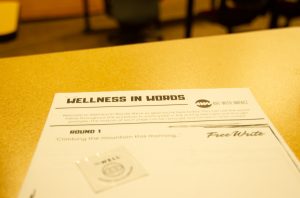 "It is really difficult to find spaces to dream and to sit with myself and sit with my feelings and my emotions," Martinez-Hewitt said. "Spoken word spaces really saved my life and inspired me to feel all of my feelings and build community."
"Wellness with Words" was created to "immerse, explore, and express." There were three short films shown which were created by participants of Art with Impact. After each showing, the room was instructed to free write for four minutes straight, continuously writing despite where the mind wandered. Picking out the most important facets of their free writing, students were then instructed to write a poem.
With each activity, there was a hush that went over the room as people began to write. The air was thick with intention and creative desire. At the end of the evening, everybody had completed three poems with morals about triumph, gratitude, and self-love.
The power was held in the sharing of the poems. Some students would voluntarily allow their work to be read aloud to the room, each met with the same support and collective feelings of respect.
Martinez-Hewitt demonstrated a passion for sharing knowledge and creating an inclusive, open space. They conduct workshops online and at different schools in efforts to encourage healthy wellness practices. The spiritual teacher relishes in the community that spoken poetry has unlocked and continues to hold gratitude for the community of other queer individuals and people of color who they have met through their journey.
Having attended and participated in this workshop since his first year at City College, Mindfulness Club President Nicholas Hernandez believes that one of the most important tools when it comes to mental health is having a community around you. The idea that "it is okay to not be okay" while having a dedicated support system is what makes a difference. The passionate student takes every action with intention in order to be an example of courage among his peers.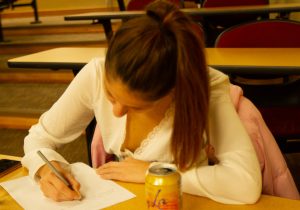 Deniz Ozdingis expressed her gratitude for the awareness that the workshop brought to her personal life. The true impact came from hearing the poems that other students created which sparked joy and inspiration, she said.
The focus of the workshop was how words hold a powerful connection to wellness which can be explored and learned while also holding the simple truth that everybody has the ability to express themselves through writing.
City College is always planning new activities and opportunities for the future to continuously spread support for students who are searching for community.
Correction: Nov. 22
A previous version of this article didn't include information about the collaboration of services that ran this workshop. The Channels regrets this error.