Stephanie Dotson's printmaking lab is a constant whirlwind of creativity and action.
Many City College students take her class out of curiosity and leave with new skills, inspirations, and pieces of art. 
In her 15 years of teaching at City College, she has seen countless students fall in love with printmaking and cherish it as a part of their hobbies or careers. 
"Some people just really take to it," Dotson said. "That's what you want in a class– when students get inspired you feel like you did something good."
Story continues below advertisement
Although many people take her class to learn screen-printing, she says her favorite thing to teach is relief printing. When relief printing, an artist will carve into materials like a linoleum block, which is then inked and printed onto paper or textiles. This process is often hard for people to wrap their heads around because instead of introducing marks, the artist is carving and "subtracting" to make marks. 
Dotson says that once students start to get the hang of the process, "it can elevate anyone's mark." 
She often gets to watch students realize they have talent when they lift their first edition off the press.
The process of different printmaking techniques can be intimidating, but she teaches in an approachable way by outlining easy steps and spending time in the lab demonstrating and answering questions. 
Dotson received her bachelor's in printmaking intermedia from Kansas City Art Institute and her master's from University of Georgia. Going into the art institute she had no formal art experience and was a "sponge" for everything she learned.
"I didn't know a lot about art when I started college, but it was really the only thing I did," Dotson said. 
Despite her years at art school, Dotson never had a "real" printmaking class and instead taught herself through trial-and-error.
"I really didn't learn the correct way to screen-print and that put me at an advantage because I ended up just figuring out ways to do it after college," the art fanatic said. "I was just screen-printing in my backyard, exposing screens in the sun and teaching workshops on how to do it at home."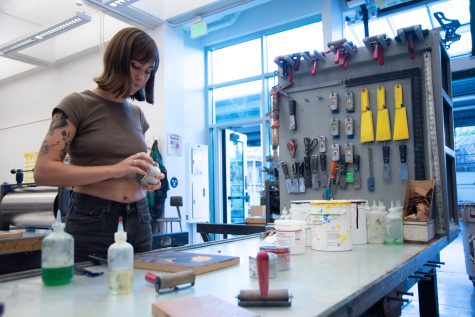 So much of her down-to-earth mindset and DIY approach inspires her printmaking class, where she encourages students to think outside the box and go beyond the "right" way to make prints. She combines her years of experience with lectures about historical printmaking techniques and artists to create a well-rounded and engaging class.
"If there's any mistake to be made in screen-printing I've made it and I think that makes me a better teacher," the creative professor said.
Evelyn Contreras, a City College alumna and former student of Dotson's, explained in her Atkinson Gallery artist talk how the DIY culture of the printmaking class was a "springboard for success" in her career. Contreras is an expansive printmaker and displayed her work in the Atkinson Gallery earlier this semester. 
Growing up in Topeka, Kansas she "never thought for a second" she would be living in Santa Barbara. After moving for her job at City College, she met her husband and started a family. Now, she can not imagine being anywhere else. She also shares a beautiful, sunny studio in Carpinteria where she does a good amount of her work. 
Lately, Dotson has been focusing on drawing and investigating materials. She is working with the idea of interruption by folding patterned paper, tracing it and then redrawing the folds.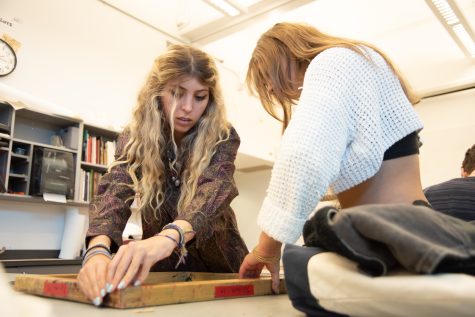 "I'm exploring a really shallow space and how to create space in a drawing," she said. "Folding is really interesting because it touches on domestic labor but also relates to textiles."
She draws inspiration from female textile designers in history and Santa Barbara, which she says "is a really exciting space to work in right now."
Dotson often incorporates artists who inspire her into her lessons and teaches about printmakers now and throughout history. 
"It's really so powerful to have the ability to make multiples and edition things,"  Dotson said.