SB Rollers skate club coasts onto City College campus on Sundays
After Terrance Brown lost 80% of his business as a personal trainer during the pandemic, he called his mom.
"My mom gave me a tip," he said. "Just skate, don't think about it."
So he did, and started hosting a weekly meetup for skaters every Sunday at City College's Lot 3—facing the ocean, basking in sunlight with funk music. 
People laced up skates for the first time, friends chatted in the shade, and expert skaters filmed their tricks, filling the parking lot every Sunday while Brown DJs with funk, '80s, and '90s music.
Skaters of all ages are invited and encouraged to join, regardless of skill level or wheel type, anything from inline skates and skateboards to the classic four-wheel roller-skates.
"Once we start skating together, it's like a small magical bubble," Brown said. "Everyone is in their zone."
Brown first started skating at the beginning of March last year at Skating Plus in Ventura for his birthday, though, at first, he wasn't as comfortable on wheels as he is now.
"We all adults were going around in these walkers, falling," he said. "It was just hysterical."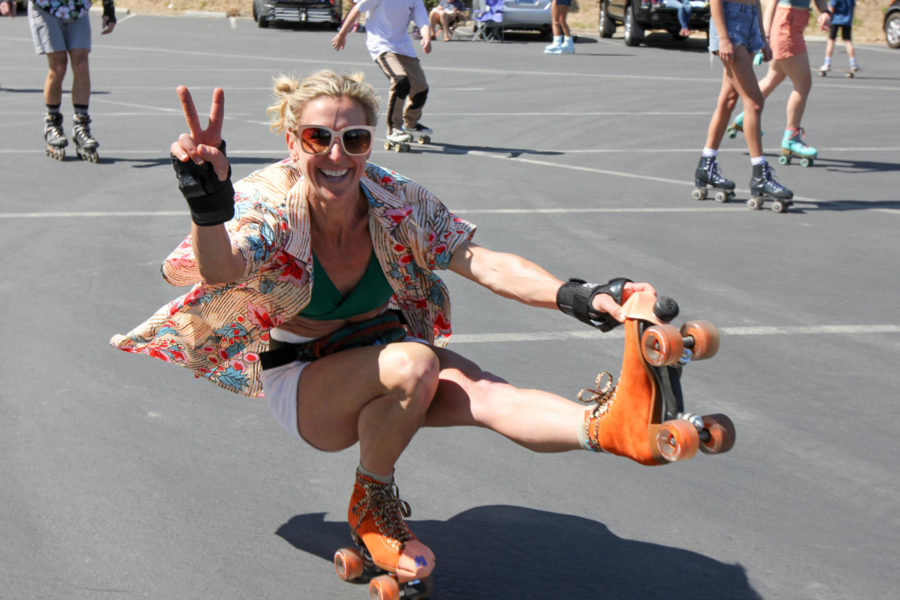 Brown said he loved that first experience so much that he went back for lessons shortly after.
"Besides me, the oldest person in the group was seven years old," he said. "I almost walked out."
But he endured the initial awkwardness and learned from the kids at the skating rink. One 13-year-old named Ethan encouraged Brown to ditch the walker and start practicing where he wanted his skill level to be.
"This little kid just threw some knowledge on me—start where I want to be," he said.
Brown kept practicing on an elementary school basketball court. He'd watch YouTube videos of skaters on repeat, trying to mimic their moves.
Eventually, he felt confident enough in his skills to head out to the bike path by the harbor where he ran into Sean Bowie, a man in his 50s jamming out on roller skates on the sidewalk.
The two started skating together and more skaters slowly joined them, until they had a small club going.
They called the club SB Rollers.
The core group started as just six skaters, and the club held its first event on Juneteenth last summer. 
"That day is very special for me," Brown said. "I'm the only black person in the group but they didn't see that and that's what I like about them."
Brown said the small Black population was a "culture shock" when he first came to Santa Barbara in 2012.
At the time, he was staying on a friend's couch and attending City College part-time.
"When my friend ended up transferring, I was left with no one," he said. "I was sort of anti-social."
Through joining the football team and roller-skating, he found his footing again in Santa Barbara.
Now he's happy to have the chance to be part of the skating community, which has grown in popularity as a go-to outdoor activity since the pandemic, and through social media a new generation of skaters has emerged.
"I love the kids," he said. "I'm living through them because I never got a chance to do it."
Ally Shiras enjoys roller derby and has been attending the meetup for a few months. She was inspired to start skating by videos she saw on social media and the movie "Whip It."
"I've probably made more friends during COVID than in my entire life," she said.
SB Rollers meets at 1 p.m. on Sundays at City College's Lot 3.