Latinx artist discusses lack of representation in art community
Offering a chance to view the world through his lens, students Wednesday admired the work of essayist and artist Harry Gamboa Jr., while celebrating Latinx Heritage Month at City College.
Gamboa stood with his camera slung over his shoulder and flipped through decades of his world-renowned photographs, offering colorful commentary on the meaning behind the visuals and the performance art that often accompanied them.
Courageous Conversations for Outrageous Times invited Gamboa to talk about his artwork, inspiring students and faculty as they listened closely to what he had to say.
"I want to teach people how to see," Gamboa said. "First thing to do, look in the mirror and see yourself."
The bulk of Gamboa's work involves shedding light on groups often under-represented in museums, or the art world.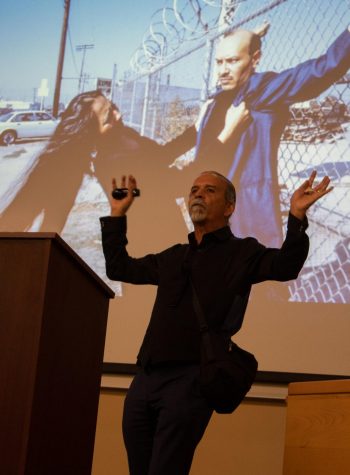 He created the art collective ASCO, together with Glugio Gronk, Willie Herron, and Patssi Valdez, to expose Chicanx art to the rest of the world.
His later work became heavily influenced by the performance art that went into creating his early photos, where his subjects would pose on the streets for hours, mirroring the paralyzation Gamboa feels has grown into the culture of the world today.
"Now it's, fight, flight, or become paralyzed," Gamboa said. "People are scared to act, and in not acting, they fall into the background and are not participating in life."
He hopes that by showing his art and working with other Chicanx artists, that the suppression of Hispanic culture can be overcome.
"We have played a major role in defending the country in various wars. As well as, historically, the creation of intellectual and creative materials," the artist said. 
His essays echo the idea of finding our natural state and unlearning the cultural prejudices that have grown over the years.
"Racial hatred and intolerance is not a natural state. It's something that is taught, and it needs to be untaught," Gamboa said.
Students and Faculty were amazed by the work of Gamboa.
"It's such a wonderful opportunity to learn from Harry," said Melinda Gandara, professor of American ethnic studies. "He was in high school during the Chicano Riots, he was there for a lot of big moments. His work will live forever."
He will continue to spread this message of accepting Latinx Heritage and its contributions to American culture through his work and teachings around the world. 
His work is currently on display at the Smithsonian Museum in Washington, D.C.
Courageous Conversations For Outrageous Times is curated by ethnic studies professor Thomas A. Carrasco and will continue throughout September for Latinx Heritage Month.