SBCC student parents speak out about struggle of juggling 2 roles
Some student parents say they appreciate the resources available on campus for them, but at times still feel unseen and under-represented because of the many resources they still do not have access to.
The resources provided by the Extended Opportunities Programs and Services Single Parent Program are the only services provided to student parents— who are one of the most at risk communities within the college.
"I feel that this institution has the resources to provide childcare when there is an event," said student parent Wendy Aguilera. "It is not fair that just because we have kids we can't enjoy or have access to those events because we can really benefit from them."
The chances of a student parent being overwhelmed with non-school responsibilities or financial pressure leading to them dropping out are much higher than the average student.
Chelsea Lancaster, coordinator of the Single Parent Program and the Student Parents Arriving Ready for College Summer Program, spoke with numerous student parents on the issues they face and the resources available to them.
"There is a lot of talk on campus about gender equity, but I always maintain that this is one of the most marginalized populations and that is not just experientially."
A large variety of services are provided through EOPS ranging from assistance in getting children enrolled in daycare programs within close proximity to the college or providing subsidized childcare to events so they are able to bring their children with them.
A large majority of funding is provided by the SBCC Foundation.
These events go from simple festive activities such as a field trip to Lane Farms Pumpkin Patch for Halloween and a screening of the movie Coco with hot cocoa being offered for Dia de los Muertos to field trips out of town to visit colleges. They also have their own book club.  
Study abroad trips, field trips, and other campus events are some of the resources available to most students which are realistically not possible for many student parents.
They oftentimes cannot find or afford child care for the events or say they feel embarrassed or unwelcome bringing their children.
Many student parents also feel unwelcome even in their own classes or using resources readily available to other students. The issue has discussion amongst the parents around creating lists of child friendly classes and schools to transfer to.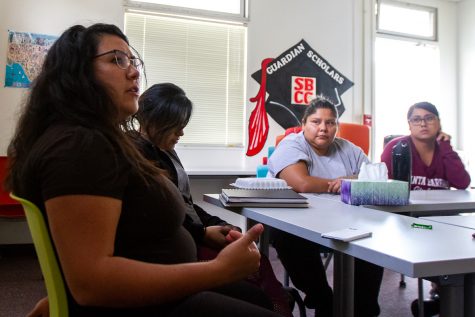 Student parent Maira Martinez said her biology teacher lectured the class with unwarranted advice to student parents after learning she and another student had children. She said the lectures mader her so uncomfortable she felt the need to sit in the back of the class
"Woah woah woah. Can we talk about what mitosis is and not about breastfeeding? I am just here to learn," Martinez said.  
Wendy Aguilera, another student parent, said her math teacher made her sick daughter sit outside the classroom during the class.
On another occasion, she had take her midterm with her sick daughter on her lap because the teacher said under any circumstances if you missed the midterm you would fail the class but also wouldn't allow her daughter to sit in her own chair.
Many student parents are first generation college students and a big goal of Lancaster's is to familiarize the college campus in a positive way to the children of student parents to help encourage them to attend college.
Student parents would like to see a many resources available which are currently not such as a family room in the library where they could study with their kids, a room on campus with resources dedicated to them, more lactation rooms across campus, children friendly options in the cafeteria and on campus daycare similar to what Santa Barbara High Senior High School offers.