Santa Barbara no-kill shelter holds 'Wine for Wags' event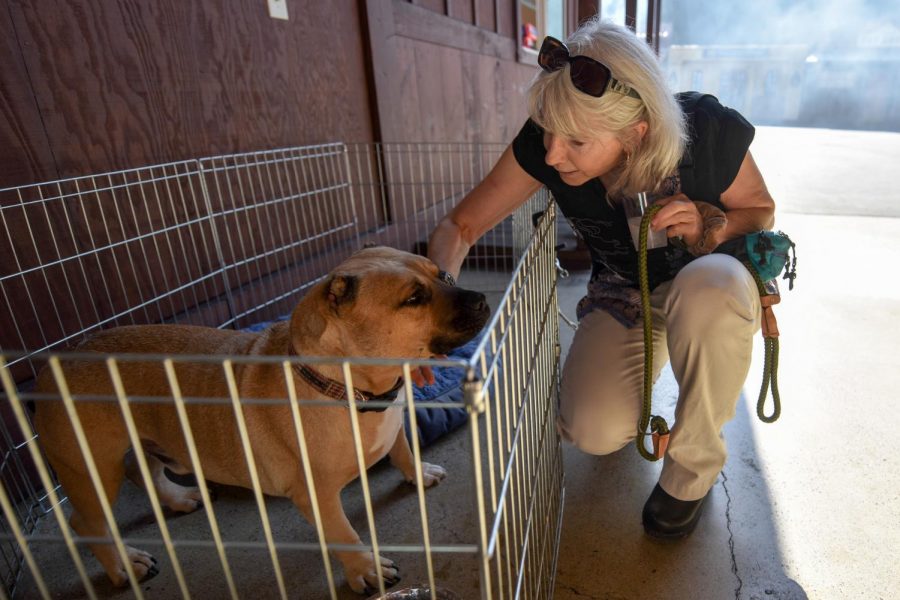 A dog adoption and and non-profit rescue shelter group held its annual fundraiser, Wine for Wags, at the Santa Barbara Carriage Museum Sunday.
The fundraiser was organized to raise money for the group to take care of the dogs and advertise the group's services, with a dinner and live music in the background for guests to enjoy.
"We are a no-kill dog shelter in Santa Barbara," said Onalisa Hoods, the board president of the group, Dawg. "We take homeless dogs that need a second chance at life."
Hoods added that Dawg is the only no-kill shelter in Santa Barbara. Its staff members include veterinarians, trainers and volunteers to provide the best care for the dogs. Many staff members are former and current City College students who say they combine their studies and work well.
"Of all the jobs I worked, doing this type of work on rescue dogs is the type of work I was meant to do," said Carl Zaboly, a veterinarian and a member of the board, while playing with his adopted dog that he brought to the event.
The shelter receives a lot of sick dogs with many problems, but according to Zaboly, Dawg tries to make the dogs "whole" again so they are ready for a forever home.
There is also no hurry for the dogs to be adopted, since its a no-kill shelter. According to Amanda Hart, the shelter manager, dogs who don't find a home are taken care of and then placed in a foster home and get the attention they need.
"Dawg is a home away from home to me," Hart said. "Just to be able to go there every single day and to share so much love and so much care for those dogs is a blessing for us and also a blessing for the dogs."
One of the people at the event was Maryann Reece, who brought her own dog she had adopted from Dawg.
"This is a very good shelter," Reece said. "They are hardworking and it's all volunteered, and it is helping the animals in our community."
Dawg is currently looking for people to join its staff team and to help to take care of the dogs, either as a job, a volunteer or as an internship.
"We are always looking for interns," Zaboly said.
He added that in the past, City College students would do their veterinary internship at Dawg and go straight to vet school afterwards. Students who have an interest in dog training, veterinary studies or animal husbandry, are especially welcomed to pursue an internship.
City College students and former students seem to like their jobs at Dawg and are very enthusiastic about them.
"To train a dog and see them go from being very fearful of people and almost aggressive to loving people is really great," said Kylie Colvin, a former City College student who now works as a kennel attendant at Dawg.