Panelists offer advice to students aspiring to work with animals
Professionals in the field offered advice to students on getting started working with animals in a panel held Wednesday night.
The event called "How I Made it" was held by the Career Center, who invited local animal workers to City College to discuss their experiences from a diverse range of fields.
Each speaker shared the unique and non traditional path that led them to do what they love, working with animals.
Elaine Ibarra, a mother of two, was recently made Director of Animal Care at the Santa Barbara Wildlife Care Network. As head of the nonprofit she orchestrates the rescue and rehabilitation of injured and orphaned wildlife. She also works to educate the public about living in harmony with these creatures. In 1986, she left college to raise a family, though finishing school always remained a priority for her. Over the course of 26 years she attended various colleges across the Los Angeles area earning a degree in chemistry. "It was always important for me to get a degree, that's why I kept trying," she said.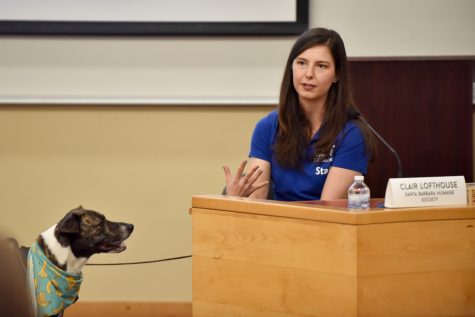 Clair Lofthouse a City College alumna and recent graduate of UCSB is the Volunteer and Outreach Coordinator for the Santa Barbara Humane Society. "In this field, if you ask for opportunity it's going to be there for you," she said. "You just have to go for it."
She got her start volunteering with animals which gave her connections to where she is today. She began her career working in public relations during her final year of college. "I took that position so I could learn more about managing people,"she says, "I definitely recommend it to anyone who is creative and self-starting."
Maryann LaScala is a local entrepreneur and owner of the Camp Canine Training Center which offers services for dogs from training and boarding to a spa.  For over 30 years she has grown her family's business while creating curriculums which they use in their facility. Her work involves interpreting the cross-species communication between humans and canines.
When considering a vocational path, LaScala encourages students to ask themselves, "What is it that I can't not do?" She believes there is a driver inside of everyone, that comes from deep inside and will point you in the right direction. She attributes her success to following that voice.
Neshan Sarkisian, DVM, is an associate veterinarian for Vets Here, a mobile veterinary clinic.
As a child his parents urged him to pursue veterinary work because of his natural ability to help wounded animals.
"You have to have compassion towards animals and have an innate curiosity for the mystery of medicine," said Sarkisian.
Upon graduating college he moved to South America to pursue other interests, despite his parent's advice. However after several years his innate abilities with animals came full circle and he realized his calling in veterinary work.
According to Sarkisian, individuals must be "quick on their feet" and "humble" in order to succeed as a veterinarian.
Audience members found this advice helpful, including Carlin Riley, a 25-year-old student who plans to become a veterinarian. As a non-traditional student herself, she said she learned "how you can put yourself in the mindset to do these things. I liked that they didn't focus on the academic side, they focused on the personal side of what you can do to achieve."
The event was live streamed so anyone not able to physically make it was able to see the presentation.
Editor's Correction:
This has been changed from a previous version to correct a factual error. LaScala is the owner of Camp Canine Training Center, not Camp Canine Dog Boarding and Spa.