SBCC hosts first 'Trashion Show' in celebration of Earth Day
Students speed across the bridge to get to class on time. Others gather on the West Campus Lawn for a fashion show sporting clothing made from unexpected material: your backyard recycling.

At City College's Earth Day celebrations Thursday, festivities included a "Trashion Show," where models walked a runway wearing colorful garments made out of recycled material including bubble wrap, food wrappers, plastic bags, and Seran Wrap.  
"This spreads awareness and reaches people who are not really interested in environmental issues," said 19-year-old Frances Manthorpe, the designer of the fashion show garments.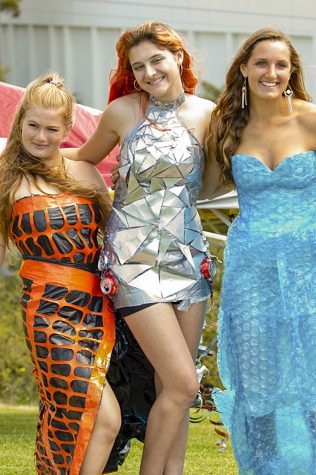 Manthorpe designed the dresses with her mom's help, and said she spent approximately 15 hours with each dress in preparation for the show. Manthorpe was inspired by her experience in high school, where she also designed garments made out of trash as a president of a club called "Envirolution."

"I'm proud of students for being innovative," said Mayor Cathy Murillo, who spoke at the Earth Day event. "They are using every opportunity to capture people's attention and share awareness."  
Manthorpe also inspired her only male model, Diego Rhodes, to create his own outfit. Rhodes stitched up empty beer cartons to make an armor type shirt.
"First I had designed a shirt out of different types of trash, but Frances told me it has to be one theme and gave me the idea to use these beer cartons," Rhodes said. "It took me an hour of focused work to make it."
The Earth Day event lasted from 10 to 2 p.m., and opened with an interactive workshop highlighting the college district's environmental accomplishments and discussing new projects and goals. The fashion show followed the workshop.
The strong winds on campus made it hard for presenter Jackson Hayes, the former commissioner of sustainability, to speak through the microphone, but the show continued anyway.
"It was a better turnout than I expected," said Rhodes. "We had a good time despite the wind and everything."
Murillo expressed her support for City College students using fashion culture to make environmentalism more likable.
"We have to use every opportunity, to use anything that gets a person to care," Murillo said.