SBCC's hired new full-time earth and planetary sciences instructor
Stephanie Mendes, the new full-time earth and planetary sciences instructor, wants to apply a hands-on learning approach to her classes by making them significantly more field-based.
After years of being a part-time instructor at City College,Mendes began this semester as full time faculty, teaching oceanography and historical geology.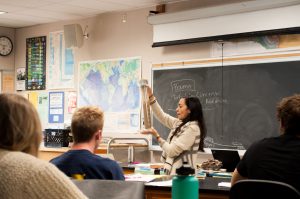 "Right now, the oceanography lab is over 50% field based," said Mendes. "Truly, more than half the labs this semester are outside the classroom."
She said she believes students benefit from interacting with what they are learning about on field trips much more than from the more old-school approach of learning from a textbook.
"Students love our field courses way more than they love our in-class classes," laughed Mendes.
"It's far more inspiring. When students come home, they're glowing. It totally changes the perspective of the state you live in."
One of Mendes' current and former students, Phoebe Mather, even changed her to major to geology after going on the last Death Valley course trip.
"It was an amazing trip and the department is amazing as well," said Mather.
Mendes will be one of the instructors for this semester's five day field course hosted by the earth and planetary science department every year. They go to Eastern Sierras in the fall and Death Valley National Park in the spring.
The earth and planetary science department partners up with the catering department on the two-unit field trips. If a student has taken or are currently enrolled in any of City College's introduction to biology classes, they meet the prerequisite to attend any of the trips.
"I've had the privilege participating on the past trips, essentially as an observer when I was here part time,'' Mendes said. "I absolutely loved it which is another reason why I'm so excited to be here! The courses are awesome."
Mendes was born and raised in Southern California. She got her bachelor's degree in Professional Chemistry at Chico State University and moved to Santa Barbara in 2009. She received her doctorate in Marine Biology and Geochemistry at UCSB in 2014.
"She is awesome! We are totally stoked to have her in our department," said Dr. Sean Kelly, earth and planetary sciences instructor.
Mendes will be instructing a trip through national parks along Western United States next summer. Students will have the opportunity to explore and study in the Colorado Plateau for 15 days.
Conor Boal, one of Mendes' new students, is taking geology for the first time this semester and looking forward to his first field trip.
"I love the closeness in the department. You build a personal relationship with everyone,'' said Boal.  "I've only been here for 4 weeks and I'm already part of the family."
Mendes is looking forward to her classes this semester and starting a new chapter at as a full-time professor.
"I've loved SBCC for many years so it's an honor to officially be serving the students," Mendes said.