Hackathon brings sponsorships for computer-engineering club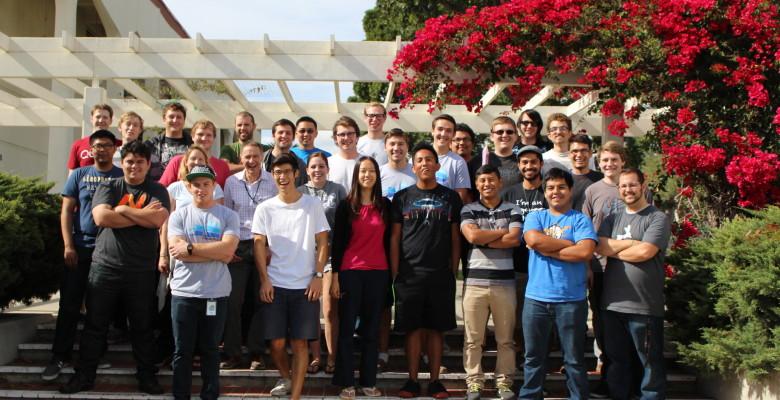 Two No. 2 pencils are propped up on a piece of foam about 6 inches from each other and connected by a thin piece of wire.
Attached clamps feed an electrical current from the power supply box to the wire, creating a hot wire cutter, a device that uses heat to cut through materials.
The pieces of purple foam slide seamlessly through the wire to form square shapes that will later be used to build a prototype of the Master Project.
The Computer-Engineering Club members are used to fabricating devices like these from simple, affordable, commonplace items for their projects.
"All of the projects that we pursue usually fall across all fields of science," said Co-President Michael Bachmann. "It gives us a chance to bring all of these different people together to make real projects happen."
The club began to form during last spring break, when founders Jonathon Steelsmith, Michael Bachmann and Tyler Hall thought they might share their creative activities with other City College students with the same interests. The club became officiated in Fall 2014.
"Everyone wanted to do something in this realm that hasn't been covered by other clubs on campus," said Hall.
The first milestone for this club took place at the CalHacks hackathon. Members from the CE club as well as the Computer Science club formed teams of four or five and put together projects to compete for a variety of prizes.
Steelsmith, Bachmann and Hall were joined by students Colin Allen and Alberto Villalobos to create a winning project called WiPi, for which they were awarded personal prizes as well as sponsorship's from Intel and Texas Instruments.
WiPi uses economic radio devices, Linux Computers and arduinos to create a communication system which responds to simple command tasks, such as opening a door or checking if the lights in another room are on.
Venture capitalists have become aware of this invention and have been in contact with the team.
Aside from working on individual projects such as WiPi, laser tag, or instruments made of floppy disks, the 35 or so members of the club are also working all together on the Master Project.
The big mission aims to create an autonomous plane document video feed of its journey after being lifted by a weather balloon, a device capable of traveling 120,000 feet in altitude.
They are currently putting together a prototype to test out the process.
"We just want to get our feet wet, get something working," said Steelsmith.
The members have been broken up into four teams, each responsible for a different task: Radio, Flight Control, Ground Control, and Air Frame.
"When I heard about the club, I was really interested because this club has a lot of potential," said Club Historian Ruthannah Wang, an electrical engineering major.
The computer-engineering club is currently trying to get donations of scrapped electronics and supplies that they can use for their projects. They will be participating in another Hackathon at USC on Nov. 7.