Virtual virtuoso: Student excels in video game design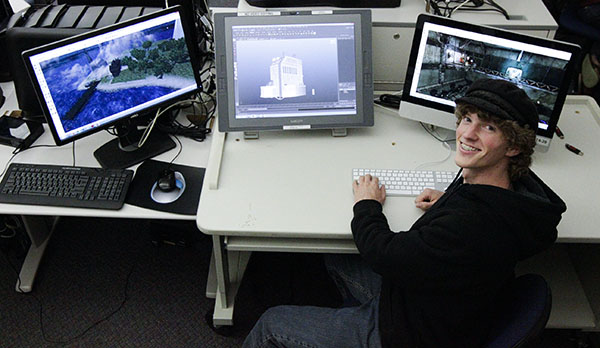 Hidden behind the rows of the Apple desktop computers in the Digital Arts Center Lab, a curly haired 19-year-old student spends multiple hours developing and programming his own video game.
Andrew Price is a City College animation and video game design major. His teachers' say he is one of the most self-motived students in the department. He began to learn video game design 10 weeks ago.
"Every semester we find one or two students like Andrew," said Mihir Mahapatra, multimedia arts and technologies adjunct professor. "He's exceptional and serious students like him can develop skills."
Last year, Price began at City College as dual enrollment student. During his final year of home schooling, he decided to start his general education courses. He planned to major in Humanities with an emphasis in English. After enrolling the Flash I: Interactive Fundamentals, a course teaching animation and design interaction, he changed his focus.
"I realized I was going in the wrong direction and I liked designing games and animation," said Price. "So I switched majors."
He began creating short, comical animated YouTube videos with Adobe Flash Player. For one Flash animation project, Price spent more than two months creating a two-minute video piece.
"I thought it would be interesting to learn and I'd take it as a fun side class," Price said. "It ended up taking a lot of my time because I loved it."
A Lompoc, Calif. native, Price developed an interest in game design this fall semester. He decided to take things one-step further and expand his fascination with 3D programming.
"You have to like playing video games if you want to design them. I like both," Price said. "Between the two right now, I like making [games] more than playing them. Once you start designing games you see it from a different perspective."
Currently, Price is working on building a game level for his 3D Environments Design class. Throughout the semester he will work with a team of classmates and create a first-person shooter game called Paragon Island. Players can lurk across their futuristic and post apocalyptic island. The game features grey buildings, dark green trees and a glistening ocean.
"The concept is going to be some kind of evil corporation or experiment taking place and something goes terribly wrong," Price said. "It's as though the island is deserted and you're wondering around."
Ty Hegner, video game design adjunct professor, has recognized Price's ability to understand designing techniques through hard work and dedication.
"He applies himself," said Hegner. "We have all the tools. It's a matter of how much the students applies."
Just like playing a video game, designing one requires a diverse set of skills. The full-time student says his strongest quality is texture mapping, 3D modeling and laying out light sources. When the semester is finished, Price plans to continue expanding the project.
"I've been mostly making materials to wrap around objects. If there is a big building and we want a white cement texture, I build the texture," Price said. "We're thinking about continuing the project and making something bigger."
The game designer plans to transfer to the University of Southern California and continue working in the gaming industry.
"There's always something more to learn," Price said. "The best feeling is when I finish building something and it all comes together and then you actually jump into the world."
With a support system from the multimedia arts and technologies department, Price's teachers are confident he will excel.
"Half of the industry is problem solving and the ability to figure out problems is important. He is self motivated to look at problems and figure them out on his own," Hegner said. "That's a skill itself, it's hard to teach."