Luria Library celebrates life and death with Dia de Los Muertos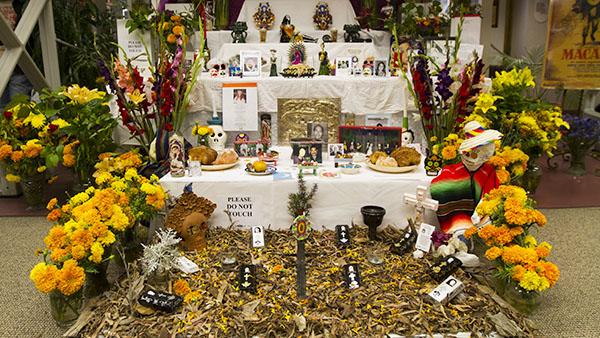 City College's Luria Library is bursting with color and celebration at this year's annual Dia de Los Muertos art exhibit.
Until Nov. 1 the celebration presents the unity of life and death through the theme 'Progression.' All the events and traditional altar displays are assembled by participating groups.
"It's about showing students and the community how different cultures deal with death," said Dina Castillo, professor of the School of Modern Languages. "Yet it's an event that brings the campus together."
The week brings a high level of recognition to the Latin belief that death is part of life, and the spirits of the dead return to their homes where they are honored as guests.
"This college as a whole needs to pay attention to its large Latin community and culture," Castillo said.
The event displays other cultural beliefs as well. Anyone is able to attend the different events and tour the library exhibit.
"I look forward to seeing all the crazy displays every fall," said City College student Katie Fielder as she explored the library.
Supporting departments, campus clubs and community organizations have allowed this year's event to be bigger than ever.
"Twenty-four years ago when we started the exhibit, we had no idea it would get this big," said Castillo. "We've been in the library for about seven years now and each year we get more and more organizations wanting an altar or event."
While the library is open for viewing all week, the events and activities are specifically scheduled.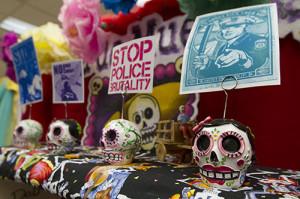 The School of Modern Languages and Great Books Curriculum are holding a special reading by City College drama students.
The students will perform three select passages from Antigone, The Iliad, and Beowulf on Wednesday, Oct. 30, from 3 to 4 p.m. in the library. Dr. Andrea Fishman will begin the readings with background information and a brief explication.
She will address the female lament in ancient Greece and explain a woman's role in family burials.
Also on Wednesday, Oct. 30, from 4 to 5 p.m., a Day of the Dead workshop will be held in Library Room 146. This workshop is set to address the detailed history and meaning of the day.
A showing of the Italian film "La Stanza Del Figlio" will be held on Thursday, Oct. 31, in East Campus Classroom 27B from 5:15 to 7:20 p.m.
The week will conclude with a reception on Friday, Nov.1, from 5:30 to 8:30 p.m. on the Library's patio.
The festivities include music, refreshments, a Chumash blessing ceremony at 6 p.m., a mini-mercado, free crafts and face painting for children.
City College's annual observance of this tradition is sponsored by the Helen Pedotti International Fund, as well as City College's own Luria Library, American Ethnic Studies Department, EOPS and the School of Modern Languages.
Donations from other groups and organizations, on and off campus, are accumulating annually.
"We're happy so many people are becoming interested," said Castillo.