Sitting at the back of the theater in downtown Los Angeles with his classmates and English teacher from South Torrance High School, Michael Gros, witnessed something he couldn't fully comprehend but was completely mesmerized by fairies entering on trapeze bars, actors spinning plates on a rod and walking in stilts all while speaking in a middle Elizabethan English.
He saw his first play ever, the Shakespeare comedy "A Midsummer Night's Dream" directed by Peter Brook. This was the night that changed his life.
Gros, a man with many roles, is a City College Theatre professor, the co-artistic director of Playfest Santa Barbara, a theatre company dedicated to the discovery and support of new playwrights and he is also the director of the soon to be premiered student production of "Ten Red Kings."
Gros is the son of a policeman and secretary, born in July 1955, Inglewood, California, but was raised alongside his older brother Richard and his sister Cheryl in Torrance. Growing up, Gros enjoyed playing sports and dreamed of becoming a professional baseball catcher. A dream that he set his focus on until one fateful day during high school, when his dream was shattered after damaging his shoulder during a football game.
" I didn't have a clue what I was going to do with my life," Gros said. "Suddenly I was without purpose, I was a little lost."
Story continues below advertisement
He went on feeling that way until his English teacher took him to see his first play.
"I had no idea what a play was," Gros said. "My family did not go to the theatre or opera or concerts."
It was love at first sight for Gros when he discovered the world of theatre, a world he hasn't left since that day.
"I don't know what the hell these guys were saying or doing, but this is cool, this is fascinating," Gros remembers thinking. "I'm going to find out what this thing called theatre is."
Gros went on to study theatre at El Camino Community College. He earned his B.A. at the University of California, Los Angeles and got his MFA in directing at University of California, Irvine. His passion for acting evolved into being the man that leads an ensemble group, the director. In 2005, he was selected to receive a residency fellowship in non-profit arts leadership at Stanford's University's Graduate school of Business Center for social innovation. As he reflected back on his past, he sees now the resemblance between being a baseball catcher and being a director.
" You have your individual obligation, but you do it as a team and it's the same with a cast, " Gros explained. " There is the public aspect, in a team you play for a crowd, in the theater you play for the audience and if you've done a good job you get some kind of recognition, applause"
However, even though Gros experienced it as an easy transition from an athlete to an actor, his parents didn't always share the love and devotion their son had towards theatre.
"My mom use to say,"" when are you going to stop playing around and get a real job,"" Gros said. "She said that for years."
But Gros had set up his mind on the entertainment field. He is now in his fifth year of teaching at City College and he has already become a beloved professor, instructing courses like "intermediate acting B" and "Dev Drama: Greek Renaissance".
Amanda Gustafsson is one of the student that is in the aforementioned courses and works as the assistant stage manager for the upcoming student production Gros directs, "Ten Red Kings."
" I have only nice things to say about Michael," Gustafsson said. "When he speaks, he does it with so much passion that I immediately want to learn more about it."
For Gros, one of the greater things of being a professor is to see students evolve into a better actor and guide those students to discovery. Gros explains it as the "Aha-moment," the moment when you can see the "growth" of the "seed you planted."
"Part of what I hope to achieve is to inspire people for a love of arts in general," Gros said. " Everybody is welcome when they walk into that door (classroom)."
Gros still keeps in contact with many of his previous students, mostly through Facebook, which he considers to be a more effective and easy way than e-mail.
This Fall Gros has also been busy directing "Ten Red Kings", which opens up next week on November 12 to the general public. Gros says there has been a bit of a slow start with the play's production but they "are eventually getting there."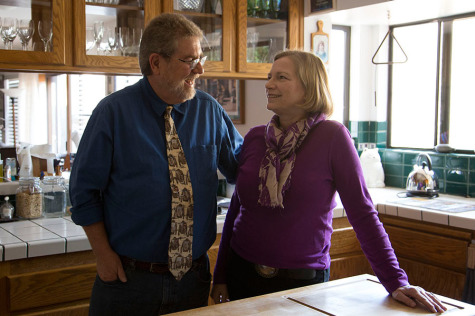 One of the more heartfelt moments behind the scenes was to see some of the young actor's dedication.
"I had a student who was trying to get a bus ride home but didn't have enough for the bus fare and this kid had put his effort to get here," Gros said. "And so we passed the hat to get the money to his bus fare."
Having to see Gros go through the emotions and stress of directing a play is his wife, Kris Gros.
" There is a cycle, it starts off high, everything is great and then it has its low point, they didn't learn their line or whatever but then it always comes together," Kris said. "I'm always amazed as well as he does with some of the more raw talents."
Kris and Gros met in 1988 during a conference. Gros' eyes were drawn to Kris and decided to gather some courage and ask Kris for a cup of coffee.
Ironically Gros doesn't drink coffee. After three unsuccessful attempts, he kept being persistent and managed to convince Kris to have a drink by the bar. Kris was quick with putting all of her cards on the table and told Gros about her 8-year old daughter, whom now sees him as her dad.
Kris expressed how she is always amazed at what her husband is capable of doing. She is still after all this years, a happily married woman.
"I wouldn't be with him after all this years if I didn't think he was a good person," Mrs. Gros admits.
When it comes to future plans, Gros doesn't plan on leaving City College anytime soon. He is already announced that he'll be directing the Broadway sensation comedy "Light Up The Sky" next year and it will be open in March at the Garvin Theatre. Gros is also maintaining himself busy with being the Vice president of "Playfest Santa Barbara," a company that is dedicated to the discovery and development of new playwrights.
For now, Gros is applying the finish touches for "Ten Red Kings," a play about a girl drowning her fears and sorrows with video gaming until she is whiskered away to a camp for game addictions, there she will have to come to terms with her past.
The play features dance, music and live-action avatars to capture the ever-shrinking gap between reality and digital fantasy.
The student production has its grand opening on November 12 and will run trough November 22. Tickets can be purchased here.