SBCC drops three straight sets to end 2014 season at home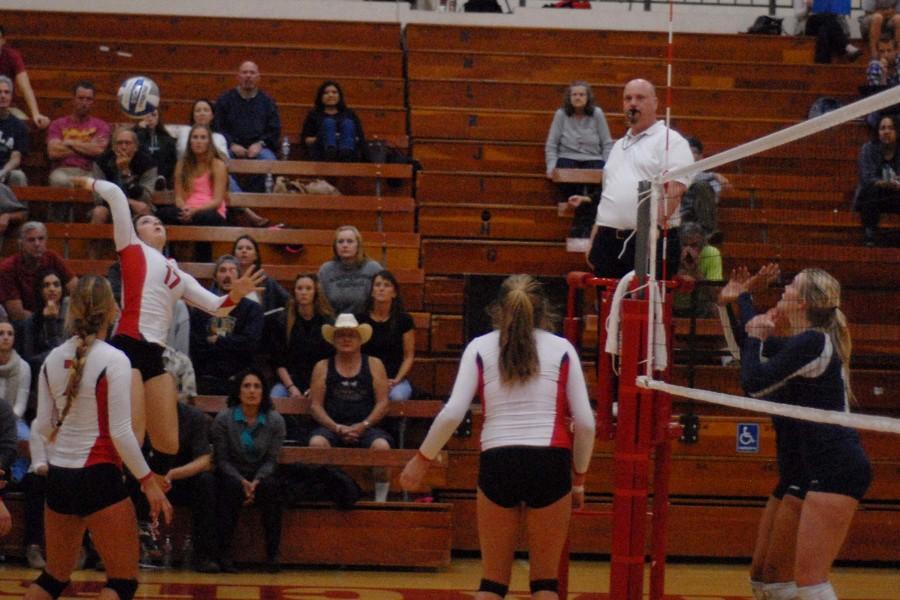 The City College Women's Volleyball team ended their season after getting defeated by Orange Coast in five sets Tuesday in front of a crowded sports pavilion.
Seeded No. 7, The Vaqueros won the two first sets and then dropped three in a row against No. 10
Orange Coast, with the scores 25­17, 25­17, 23­25, 19­25, and 12­15.
"We had it, and then we didn't," Head Coach Ed Gover said referring to the third set where City College almost ended the game.
In the beginning the Vaqueros found themselves down, 5-1, right away after a four-kill-streak from
Orange Coast forcing Gover to the first Time Out of the evening.
After that City College stepped out on the field and with a service ace from Freshman Tristen Thompson (No.16) and after great gameplay from Freshman Katelynn Womack (No.18), and Madelon Leiphardt (No.16) they were back on track with a six kill streak to pull within two.
Freshman Kaitlyn Clemann (No.12) fell and sprained her ankle in the first set, which was a huge loss for the Vaqueros, Gover said.
Both teams played wonderful volleyball throughout the whole game but in the first set City
College came out winning with scores 25­17.
Second set couldn't have started off any better for the Vaqueros, who picked up an early kill streak of nine, making the score 12­2 for the home team. They easily played through the rest of the set, and when Orange Coast got their flow going Freshman Makinna Malady (No.17) shut it down in a big play giving City College the upper hand, 24­16.
Second set ended 25­17 in favor of the Vaqueros.
Now in the third set Orange Coast found some confidence and started to keep up with City
College, who looked tired.
"I think it was mainly energy loss that sank our performance," Sophomore Erin Young (No.6) said.
Gaining the big lead again, 13­6, the Vaqueros looked like they were going in the right direction but a series of great plays was launched by the Pirates in an eight kill streak.
The game went up and down like a roller­coaster where City College mixed fantastic plays with weak ones especially in the serving department.
"For some reason we had a weak serve today," Gover said.
It was close at the end of the third set but Orange Coast came out on top winning, with scores 23­
25.
In the fourth set City College really started to struggle and it was a tactical change from the Pirates that stumbled upon Gover and his team.
"We only got one day of practice to see like here's what they're gonna do, and then they changed their serving and it took us a while to figure it out," Gover said. "Good Coaching."
With the serving changes and applied pressure to City College's star Womack, Orange Coast got some easy points against the Vaqueros.
"They put pressure on Katelynn and she got a bit out of the game," Gover said. "She didn't like it."
Orange Coast found something inside of them making it unstoppable for City College to break through their defense. The Pirates won fourth set with score 19­25.
After almost two hours of play the audience had gotten themselves a real thriller in this game.
Going to the fifth and deciding set which started good for City College, who took a 4­1 lead after a great save by Freshman Sydney Kantor (No.8) and an amazing smash by Womack.
Then it went downhill again and the Vaqueros looked hopeless when the Pirates tied and then flew away on the scoreboard, winning the set with 12­15.
Losing a close game in the playoffs with that 2­0 start took hard on the Coaches and Players and emotions were flooding after the final whistle.
With tears in her eyes Sophomore Erin Young had a hard time grasping that it was her last game in the red and white shirt.
"I'm glad to played my last game with these girls," Young said.
With that loss, the Volleyball season is over and it's gonna take a while for the player to digest the loss but I think they'll come back even stronger next year.