Women's volleyball sweeps Gover into win number 300
In a crowded sports pavilion Wednesday evening, City College blanked Ventura College 3-0 giving head coach Ed Gover the landmark win of 300 games in his career.
The 14th win in the last 15 games, and eight shutouts in their last nine, the victory came again in straight sets writing the 24 year coach into the record books.
"We were excited and we were aware that this could be his 300th win," said Sophomore Madelon Leiphardt (No.7). "We just knew we had to make it and give him this win."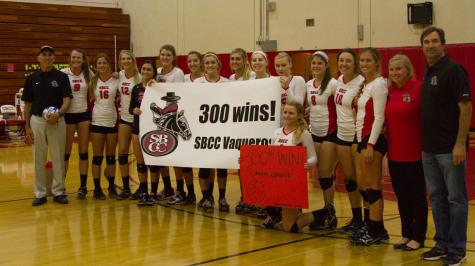 The vaqueros swept with scores of 25­16, 25­10 and 25­19.
With an enthusiastic crowd and a focused team, you could almost feel the tension and excitement in the air during the entire game. Both City College and Ventura College traded back and forth solid play on the night.
In the first set, Ventura committed technical mistakes which were capitalized on by the Vaqueros, leading Gover's team to their first three kill streak. Up 11-6 and after a kill streak of seven, freshman Katelynn Womack (No.18) added insult to injury with a timely ace to pull away 25-16 in set one.
"The first set I didn't feel warmed up enough," said Womack. "But we came through as a team and it was a team win."
The Vaqueros came out and dominated the whole second set. With an opening kill streak of a five, City College forced the Pirates to two quick time outs.
"(Gover) said that we should stay mentally strong, keep playing like we've used to, and be ourselves," said Womack. "And we did."
Ventura did their best but they didn't stand a chance against City College's heavy artillery, and the Vaqueros won the set, 25­10.
"I'm really proud of the team, their commitment to this program and how hard they work," said Gover. "They stayed calm and played steady the whole game."
Third set heated up, and Ventura College took the lead for the first time in the game with continued energy.
But with powerful spikes from both Freshman Kaitlyn Clemann (No.12) and Womack, City College fought their way to an 18­14 lead, and after that it was game over for Ventura College.
When some intense battling in the end had City College up 24­19, and Freshman Sydney Kantor (No.8) stepped up, and ended the game with a serve ace, totaling the third set 25­19 City College.
Thanks to 10 kills each from Womack and Clemann City College is still in the hunt for a third straight Western State Conference title.
"Coach Gover is a great all­around coach," Leiphardt said. "We can go to him with anything and I'm really lucky to be playing for him."
Next game is set for 6 p.m Friday, Nov. 14, at LA Mission.