Eight athletes take next step in careers; sign letters of intent
Eight Santa Barbara City College athletes signed their letters-of-intent to four year universities Thursday, May 8, at the Sports Pavilion.
Six members of the women's basketball team, one baseball player and one men's track and field, cross country athlete sat in front of friends, family and teammates to take their next steps in their sporting careers.
Mhiah Vickers, Jessica Valdez, Elia Salazar, Jasmine Mata and Courtney Houston are headed to Eastern Nazarene College in Quincy, Massachusetts.  The five women's basketball players will join ex-Vaqueros Michelle Herrera and Jasmine Johnson who transferred the previous two seasons.  The scholarships are estimated to be right under $60,000 per player.
"A lot of people don't undestand that Eastern Nazarene is an academic school and so for them, I mean, and get a great education is just — basketball is just icing on the cake," Krul said.  "It's pretty exciting."
Head Coach Sandrine Krul and the rest of the women's basketball squad packed into the small room to watch their teammates sign their commitment letters.
Teammate Sheryl Scheppele signed with Mount Ida College in Newton, Massachusetts.  The two schools, Mt. Ida and Eastern Nazarene, are only 22 miles apart.
"It's been great (at City College)," Scheppele said.  "I came here on a whim, not planned at all, and I'm going to Mt. Ida on a whim."
From the baseball team freshman catcher Patrick (Paddy) O'Brien has accepted a scholarship to UCSB.  O'Brien has been a part of one of the most successful baseball seasons in programs history, and it's not over.
The Vaqueros travel to Oxnard College this weekend to take on the Condors in a three-game, Sectional Playoff series with a berth to Fresno City College and the state championships at stake.
The 6-5′ catcher from Orinda, California,  is hitting .321 on the season, highest among any Vaqueros batters with more than 100 at-bats.  His 27 runs scored are also tied for the team high.
"I chose UCSB for a lot of reasons," O'Brien said. "I really like Santa Barbara alot, that's probably the biggest reason.  I know their (UCSB) program is on the rise."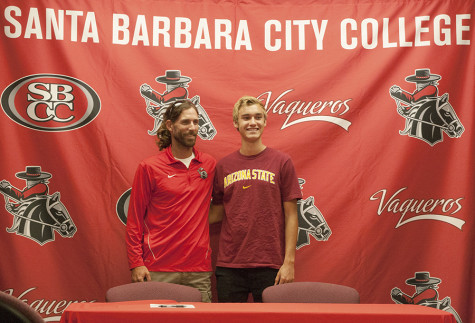 Cross county/track and field star Ian Roberts signed with Arizona State University where he will brave the heat and join the Sun Devils in PAC 12 competition.
Roberts was named the 2013-2014 Male Athlete of the Year.  The sophomore from Ventura will most likely redshirt next season but is excited about starting the new chapter.
UCLA was high on Roberts' radar, but thought Arizona State had a "better energy."
"I was just a regular kid that was alright at running," Roberts said about his time before coming to City College.  "No schools really looked at me out of high school, so, now it's great."