SBCC cross-country runner takes first place in Invitational
Leadbetter beach was host to the 2013 Santa Barbara City College cross-country Invitational Friday, Oct. 11, where a Vaquero bounded past the opponents for the win.
"I put an extra surge in there," said Ian Roberts, the men's cross-country team captain.
Roberts caught up to and passed his opponent with just 300 meters left in the race and completed the four-mile course with the winning time of 22:24.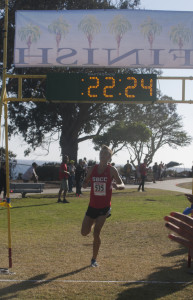 The course, which begins with a short beach stretch followed by grass and pavement, has been known for its unique but difficult features. The one-of-a-kind invitational included teams from two-year colleges all over Southern California, where men run a four-mile course, and women run a 5K.
Head coach for the City College cross-country team, Scott Fickerson, has helped organize the last six invitationals.
"I actually raced here for Ventura College in 1991 through 1993," said Fickerson.
He said that he modified the course a few years back; however the course has continued to have its beach and grass features.
At 3 p.m., the starter pistol fired as eleven teams of cross-country women kicked sand into the air and treaded the beach for the first part of the course. The unique element of sand is no stranger to the City College team, who had the course in their backyard.
"Earlier this week we ran through the course on the sand," said Alexa Sanchez.
Sanchez finished 11th overall with a time of 22:44.
Sanchez's teammate, Katie Huntington, said that running on the sand is a matter of endurance; some have what it takes to tread it, and some don't. Huntington thought her team had a different advantage besides the nearby sand.
"To be completely honest, I think the only true advantage we had was the hill because we run up this every day," said Huntington. "It almost doesn't even feel like a hill."
Huntington finished 9th in the women's invitational, with a time of 22:32
The first place of the women's 5K race belonged to Nichelle Jackson of Mt. Sac Community College in Walnut, California, who finished with the winning time of 21:25.
The men kicked off their four-mile race at 4 p.m., where Roberts shared his secret that may have won him the race.
"Before big races, I wear a lucky pair of socks and eat a blueberry muffin," said Roberts, with a big smile on his face.
Despite his rituals before a race, Roberts shared his running routine leading up to the invitational.
"These last 2 weeks I've run more mileage than I have in my whole entire life," said Roberts. "I [ran] like seventy-five miles this week, and eighty in the week before."
The City College cross-country team runs its next meet, the Western State Conference Championships, at 3 p.m. Oct. 25 at Kenneth Hahn Park in Los Angeles.