SBCC men's volleyball loses to Moorpark in four sets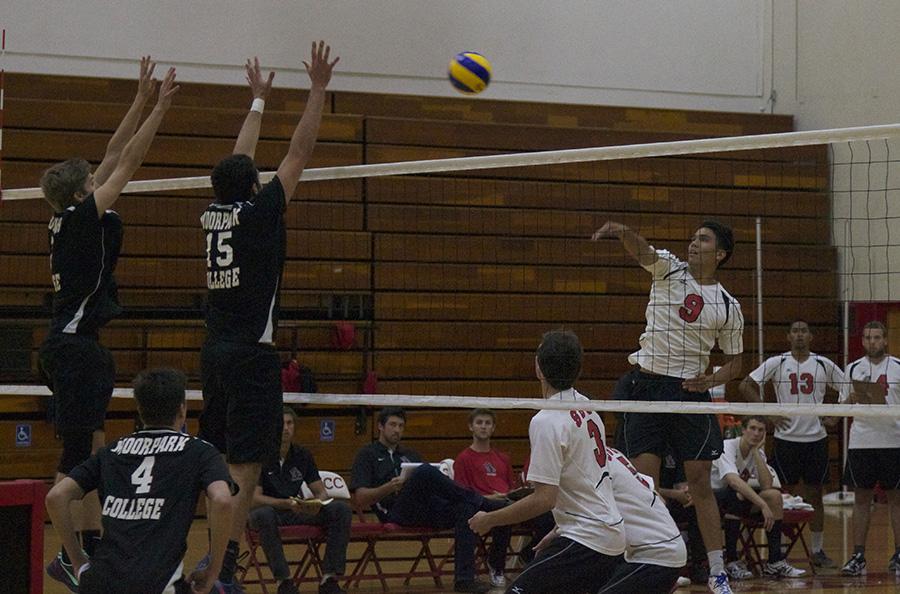 City College men's volleyball suffered their sixth loss of the season against Moorpark College Friday, Mar. 14, at the Sports Pavilion.
The Vaqueros (6-6, 1-4 in conference) fell after four lopsided sets that ended 1-3 (18-25) (24-26) (25-21) (22-25).  Moorpark (6-6, 3-2) tied Santa Monica College for third in the Western State Conference North standings.
"Moorpark served very well, I don't think we served with enough pressure tonight," said head coach Matthew Jones. "They won that battle, which is one you always want to win."
The first two sets were taken by Moorpark with only one hiccup in the second set where they were tied 24-24.
Early in the second set City College managed to get out to a five point lead but began to lose traction as the set progressed.
The third went to the Vaqueros who found some rhythm late in the game executing timely blocks against the Raiders' hitters.
Freshman Junior Too (No.13) led the team with nine blocks and sophomore Davis Grininger (No.3) followed with eight.
"We're hot right now, let's go!" said a Vaquero from the bench.
City College stayed in the fight through the entire fourth set but seemed to lose communication after giving away a four point lead.
"It was a tough loss," said Evan Yoshimoto (No.9) who had 14 kills to lead the Vaqueros. "It took us a couple sets to get it all together, like work as a team and in the end it was the little mistakes that killed us."
Freshman Gabriel Ospina added eight kills for the Vaqueros.
"Ospina played really nice back row defense especially in the fourth set. He got real scrappy out there and gave us some great swings," said Jones.
"In our serving we had some good moments and some bad ones," said freshman Shane Dyer (No.8). "We played really well we're just having trouble finishing."
Moorpark, though small in stature, spiked and blocked the ball with authority.
"They served a lot better than we did but we did have some runs as well," E. Yoshimoto said.
Standing on the sideline for the first set freshman Owen Yoshimoto (No.2) had some trouble warming up.
"I didn't start the first set but the second I came in knowing we were down so I went to work. I wanted to play good to win this game because I knew it was important," said O. Yoshimoto.
We definitely struggled to close out again along with too many hitting errors said coach Jones.
Sophomore setter Drew Hogan (No.11) had 18 assists in his first game back from a thumb injury.
"Drew coming back from an injury was a little hesitant to start, he couldn't really block at practice," Jones said.
"Mostly we need to work on offense. Our passing and defense was good today, it's just putting the ball away at the crucial times is the most important, back to practice," O. Yoshimoto said.
The next game will be away at 6 p.m. Wednesday, March 19, against Long Beach City College.