From Hawaii to West Virginia, SBCC athletes commit to play
Friends and family crowded into a press box Thursday, Feb. 6, atop a soggy La Playa Stadium to watch eight Vaqueros sign letters of intent to four-year universities.
Athletes sign a letter of intent when they commit to transferring with a scholarship to play their respective sport.
Women's Soccer
Sophomores Heather Rivera and Brandie Harris both committed to play at Division II California State University, San Bernardino.
Rivera, a psychology major from Santa Maria, was an integral part of the midfield for the Vaqueros who went 13-6-2 overall on the season.
"City College taught me to work hard, and if I do that I can get what I want," Rivera said.
Harris is a nursing major and Santa Barbara native who attended Dos Pueblos High.   She set the college record for goals in a season with 30 on her way to being named Western State Conference North Player of the Year.
Although the two were talking to Division I schools, they decided CSUSB was the right fit because of the opportunity to play more and the beautiful campus.
"I'll never play on that field (La Playa Stadium) again," Harris said.  "I want to be remembered as a leader and a captain here."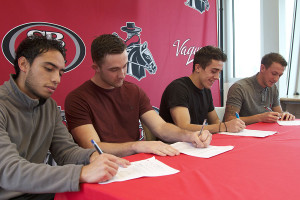 Men's Soccer
English-born players George Wakefield, Jamie Sporcic and Adam Colton with Colombian-native Juan Diaz Casallas are leaving City College and heading to Division II University of Hawaii at Hilo. All four committed and will be heading out as a unit to the sunny shores of Hawaii.
"I've had a great experience at Santa Barbara City College but I'm ready for a new challenge," Colton said.  "I just want to go there and replicate what I've done here."
Sporcic, Wakefield and Colton were all named to the WSC first team.  Colton, the team captain, was also named the WSC Player of the Year for the Vaqueros.  The team went 11-7 overall on the season and finished second in conference.
Football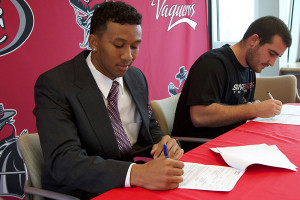 Defender Tavonte Jackson signed with Idaho State University alongside fellow sophomore and defender Jackson Weed who committed to Glenville State College.  The two wrapped up their careers as Vaqueros with the programs first winning season in more than 10 years.
Jackson, a defensive back from Oxnard, will be heading to another program on the rise at Division I Idaho State University.  He led the American Pacific Conference with five interceptions and 10 pass break-ups en route to being named to second team All-APC.
"City College has played a huge role in getting me to where I want to be," Jackson said.
Weed, a linebacker from Truckee, Calif., is headed to West Virginia's Division II Glenville State College to help bolster its defense.
"Coming to Santa Barbara is probably the best decision I've ever made," Weed said.  "The coach staff here is amazing and they inspire you to go further in your football careers."