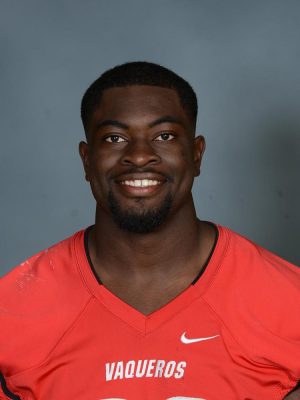 City College football star Emmanuel Nwosu runs through defenses and hopes to run his way right into an NFL training camp.
Nwosu is a sophomore running back from Dos Pueblos High School in Goleta. He leads a young City College team that consists of 60 underclassman and has a deep love for football that continues to grow.
"The comradery and the brotherhood," said Nwosu. "Just being with your teammates in the locker room. Having fun, dancing around, winning games, all of it. It's fun."
The Vaqueros have started this season with a 3-1 record and Nwosu is key to the team's success. Nwosu rushed for just 46 yards in the one loss and for over 140 yards in the three wins.
Story continues below advertisement
Standing six feet tall and weighing 225 pounds, Nwosu looks to punish those on defense who try to tackle him.
"Manny brings it every down," said offensive lineman Matthew McCarthy (No. 57). "He's not going to give up on a play and he likes to run through the tackles. That's something as an offensive lineman, you love to see your running back finishing plays. He's very competitive."
Nwosu was born in Nigeria and moved to the United States when he was 1. He idolizes former basketball player Kobe Bryant.
"My favorite number is 8 because of him. His mentality, the mamba mentality is what I try to go through. Hard work beats talent."
Nwosu's hard work has paid off this season. He is 103 yards shy of his total from last season in which he averaged 7.1 yards per carry.
"My mentality is different," said Nwosu. "Having one year under my belt helps. Experience-wise I know how the defense plays and the intensity of college football."
Nwosu has thought about schools such as UC Berkeley, San Diego State and Boise State to continue his college football career. He is still waiting on responses from schools.
"I want to go to a four year program and hopefully get a chance to get invited to a training camp for the National Football League," said Nwosu.
Now committed to football as his only sport, Nwosu has thrived off of having less on his plate. He was a multisport athlete at Dos Pueblos and now he focuses his time at City College to getting better at football.
"I don't have to divide my attention to two sports. I have to focus on my craft and get better at that," said Nwosu.
Freshman fullback Cody Perry (No. 30) praised his teammate. Nwosu is one of the few sophomores on this young team and his leadership has rubbed off on younger teammates.
"He's a motivational teammate. He leads by example, and me as a rookie I look up to him a lot. He's super humble too."
Nwosu has rushed for 562 yards and three touchdowns through the first four games of the season. He set a career high in rushing yards with 199 in a win against LA Southwest on Sept. 16.
He credited the offensive line for his successful start to his sophomore year.
"Without them, none of this would have happened," said Nwosu.
McCarthy spoke on Nwosu's impact as a teammate. Nwosu is loved by teammates both on and off the field.
"He's a great teammate. He's someone you can trust on and off the field. He will always have your back," said McCarthy. "Manny is the kind of guy that you could ask for anything and he'll help you out. He's a great guy to be around. Fun in the locker room and fun on the field.
He's a super likeable guy. Everyone on the team will tell you they love him."
Nwosu and the rest of the Vaqueros will look to make it four wins in a row at 6 p.m. Saturday, Sept. 30 at College of the Desert. The team will return home at 1 p.m. Saturday, Oct. 14, against Allan Hancock.