Enraged students fill IV streets after election divides nation
Students poured out of their houses and flooded into the streets of Isla Vista early Wednesday morning. Gathering under plumes of marijuana smoke, some blasting a song by rappers' YG and Nipsey Hussle. The lyrics, "F— Donald Trump," was the chant. 
Approximately a thousand students from both UC Santa Barbara and City College rallied after a Facebook event began circulating shortly after the election of Donald Trump as the 45th president of the United States, and Hillary Clinton's concession.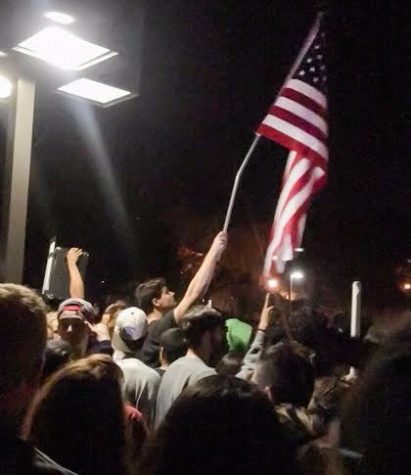 The event invited students to join in on "a cathartic experience by the shore," to air frustrations after the evening's events.  but was clear this was not a protest.
Pajama-clad 20 year olds stood in their driveways, investigating the source of the chanting, with many joining the march to Storke Tower. The noise could be heard for blocks.
"America never loved us," shouted a UC student in a red baseball cap into a megaphone. She spoke about America's negative attitude toward immigrants. The crowd huddled around her roared.
"We must educate, unite, and organize," she said.
Behind her, an American flag waved on a broken poll held by Trump supporter Richard Behiel.
"I just don't think it [the rally] makes much sense." Behiel said. "I saw the Mexican flag and thought that doesn't make sense. This is America, and I am here first and foremost as an American."
Many Trump supporters came to the gathering to support their president elect and his ideals.
Tensions peaked as anti-immigrant banter clashed with a largely Hispanic crowd. From the back, distinct calls to burn the flag could he heard.
"This was a pretty brutal election. It's a very bad moment for anyone who knows immigrants," said Rudy Centeno, a UCSB English major. "There are a lot of people who are angry."
By 1:30 a.m. the crowd began to thin as people returned to the streets of Isla Vista and back home. It turned out, this was only the beginning of protests and rallies that hit the nation today and will continue to happen throughout the week.
"If Hillary won this wouldn't be happening," said UCSB student Artem Jibotoviski, with a shrug.