Council looks to stop falling enrollment and find balance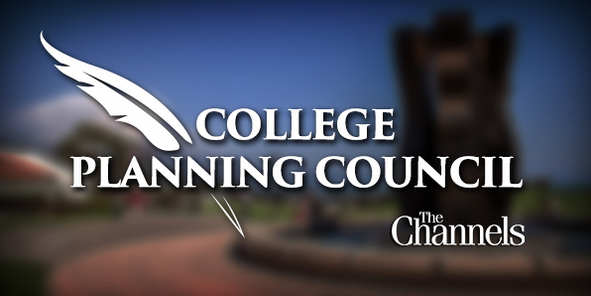 The College Planning Council is looking for ways to increase the number of students who enroll in the face of the lowest enrollment in the past eight years.
The Tuesday meeting was lead by Marilyn Spaventa, vice president of educational programs who was filling in for Superintendent-President Dr. Lori Gaskin. The council reached a general agreement that a large population at the college would be ideal because it allows instructors to provide specialized classes that would not be available in a smaller, basic-skills environment.
The college has not had as low of an enrollment since the 2007-2008 school year, and currently the decline is in a "free-fall." Having a goal of an 'ideal size' to aim for would be the first step towards sustainable enrollment.
"It comes down to the whole issue of 'what size do we want to be?'" said Joe Sullivan, vice president of business services. "We can be whatever size we want. If we don't advertise, if we just sit back, we know it's going to continue to decline. Are we comfortable with that?"
If the school pulls out of the decline too slowly and becomes too small, many of the programs and faculty that the school utilizes could be lost. If the school comes out of the decline and begins recruiting heavily again, it could end up in another decline.
Ideally, the council wants the school to reach a size where they can continue to offer a quality education without collapsing. The council believes that finding the balance will help set guidelines for the best way to budget.
Matt Marino, the representative for the Associated Student Senate, argued that lower enrollment allows instructors and administrators to tailor their focuses to the students who are already enrolled rather than those who may join later.
"When you discuss, as an institution, how big you want to be, that kind of calls in what your goals are," Marino said. "It all ties in with how many classes you're offering and how many students you want to offer them to. Rather than being invested in more and more students, invest more in the students we have."
Heightening the capacity on the enrollment of international students was a way the council agreed could increase enrollment.
Currently, the college's capacity on its international enrollment at 8 percent of its total enrollment. Since it's a percentage rather than a concrete number, international enrollment is vulnerable to declines in enrollment.
"We need to get away from the percentage for international and come up with a number," said Sullivan.
The council also discussed marketing at college fairs, and increase the size the Center for Lifelong Learning, which offers adult education programs, to help increase enrollment and get the school to its optimal size.
"I would hate to see us get too much smaller. We're developing all this stuff but with no students," said Academic Senate President Dr. Kimberly Monda.